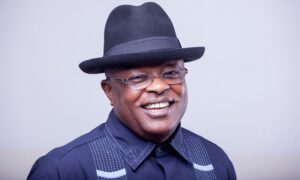 By Ignatius Soroibe
David Easton defines politics as a struggle by men to acquire political power to enable them to authoritatively allocate values.
From the above definition, He who welds power in politics is powerful leading to in some cases the abuse of power since power in its self corrupts and absolute power corrupts absolutely.
The Executive Governor of Ebonyi State have shown the world that he has the interest of his people at heart and as such in a hurry to develop the state with visible projects scattered over the state with 8 (eight) number flyovers, good and motorable network roads traversing the state. Governor Umahi has made the state a construction site with work going on everywhere. With what he has put on ground in the state, no week passes without a prominent Nigerian Business men visiting the Governor or Ebonyi State Business class to seek for one form of collaboration, partnership, that will lead to the establishment of a new business or improving on an existing one, these visits has a positive impact on the economy of the state
One thing about power and leadership is that power is transient, that is why people like Engr. DAVE UMAHI will start a project and must ensure its completion knowing fully well that whatever he builds in Ebonyi is definitely for his people and posterity must remember him. The following project are among the signature projects of His Excellency Engr. DAVE UMAHI; Dualization of Enugu-Abakaliki, Abakaliki-Afikpo Highway in progress, Accident and Emergency Unit AEFUTHA completed, Flyovers (at Presco, Spera-In-Deo, International Market Junction) completed, Muhammaadu Buhari Glass Tunnel located at the heart of the state capital, New Governor Lodge, the Christian Ecuminical Centre, the International Conference Centre, Ebonyi State International Airport, Medical School, Ebonyi State University, General  Hospitals built in all the 13 L.G.A of the state.
These projects enumerated above have made Ebonyi State Investors Heaven.
Abakaliki and indeed Ebonyi though referred to as the Salt of the Nation was derogatorily called "Dust" of the Nation before UMAHI came on board, but after nearly five years in office and with a nationalistic and a true son of his father posture has transformed Ebonyi State. Ebonyians within and outside the state are now regarded highly. A visitor to Abakaliki at night will think that he or she is in Dubai because of the illuminating and decorative lights shinning at strategic positions. There is night life in Abakaliki and Ebonyi State in general. Security of lives and properties are top priority of the Governor and he has done well in this regard.
As an Engineer, he is the number one inspector of every ongoing project to ensure work is done according to specification and design for the good of his people.
Governor UMAHI have carved a niche for himself as a man of his people, he is not vindictive, He does not build to destroy thereby wasting the resources of the people entrusted to him.
Salaries and pensions are paid as and when due, tertiary institution in the state sustain their accreditation and reaccreditation due to the support of the Governor.
Indeed thing are not the way they were about six years ago in Ebonyi. Every policy of Governor UMAHI has a human face. Some states in the South, their governor believes everything in the state belongs to them.  They use executive fiat to forcefully acquire peoples land for personal use.
It is preposterous that a certain Governor of a state cannot complete one flyover bridge in 5 years. The bridge located at Osisioma junction, Isiala Ngwa.
Ebonyi State today under Governor UMAHI is an example of what good governance can attract as the state has become a tourist delight. According to an Ace footballer, KANU NWANKWO, Ebonyi people are blessed particularly the youths because they have a ready mentor in the person of his Excellency Governor DAVE UMAHI, therefore they are not permitted to fail.
A Nollywood star, JACK ORJI said that what is needed in the youth and the entire citizenry to sustain the tempo of growth and development is support, good followership and sustained interest in their career or trade. This is the only way forward to become like their Governor when they grow up.
Nigerians watch DAVE UMAHI will interest and there is a general consensus on him replicating the Ebonyi miracle and wonders in the larger Nigeria.
Nothing can be as terrible as one being unjust to his own people which closes the door of progress.
Because of Governor UMAHI towering achievements, Ebonyians all over the world stand tall wherever they are. Ebonyi is the only state in the South-East that is alive; Abia state government cannot pay salaries and pensions, Anambra State is embroiled in activated of rural murderers and baby factories, Enugu State government cannot provide portable drinking water.
Most state government in the South-East have succeeded in creating hunger, hate and hooligans in their states through deliberately withholding dividends of democracy. The result is capital flight as many shopping and outlets are closing shop and relocating to Ebonyi State.  UMAHI has lifted Ebonyi to the level of the perfect state in the South-East. Though Ebonyi people are predominantly agrarian farmers with the present development in the state, they have now moved to the net level in the Agric value chain which is sales.
Kudos to the Governor for ensuring that there is peace in the State, there is no squabble between ELECHI MARTIN whom Governor UMAHI describes as the leader of Ebonyi State. This is good, go to other states like Imo State and see political war in action which is diversionary. The incumbent is now putting in the energy, time and the resources he would have deployed to offer the people good governance to fighting and settling political scores with his predecessor, under this confused and crisis prone condition the people suffer. But in Ebonyi State, Umahi is silencing critics with projects and projects and nothing but projects.