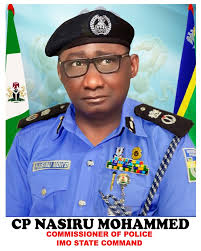 Fear enveloped the people of Ihitte-Uboma,Tuesday(yesterday) as fleeing hoodlums set fire on the Ihitte/Uboma Local Government Area headquarters in Ishinweke ,razing it to near rubbles.
The hoodlums also set ablaze a court inside the council headquarters.
The incident occurred ,one hour after protesting youths razed the Ihitte/ Uboma Divisional Police Headquarters at Ishinweke over the alleged killing of an Indigene of the area by some policemen who were on arrest.
It was gathered from eye witnesses that the attackers operated in multiple vehicles.
It was equally gathered that the vehicle of the Director of Public Prosecution in the area was snatched by the rampaging hoodlums.
Apart from the court and LGA headquarters that were burnt, some cars parked in the premises were also affected.
Nigeria Newspoint learnt that a businessman who owned a Bet9Niaja office in the area had invited the Police to arrest his sales girl who allowed a customer to play a N100,000 bet on credit.
The source said " a businessman called the police to arrest his sales girl for allowing a customer play N100,000 bet on credit. Police arrested her. The girl who was asthmatic was said to have  had attack while in police detention. Police accompanied the girl to her house to get her inhaler and unfortunately, the youths of the village attacked them.
" Two policemen were butchered and the police in anger killed one of the youths. Out of anger, the youths regrouped and burnt the Ihitte/Uboma divisional police headquarters at Ishinweke.
"After two hours, hoodlums operating in vehicles came and burnt the Local Government Area headquarters of Ihitte/Uboma. They also burnt the court in the premises. The vehicle of the DPP was snatched. All these things happened today."
The police spokesperson in the state, Orlando Ikeokwu, said that the commissioner of police, Narisu Muhammed, had investigations into the incidents.