Mbieri youths under the umbrella of Mbieri Nwaotuoke Union, MNU, Youth Wing, have expressed satisfaction at the performance of Rev, Dr. Michael Arimanwa as the rector of the Federal Polytechnic Nekede so far.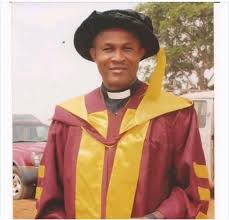 At a press conference held at its national secretariat, Aguta Plaza, Orie Mbieri in Mbaitoli Local Government Area of Imo State recently, Mbieri Nwaotuaoke Union Youth Wing led by Hon. Eziefula Nnadi said it has vigorously analyzed, reviewed and deliberated on the administration of the rector, Rev. Dr. Arimanwa and came to the conclusion that the Federal Polytechnic Nekede has experienced what it described as a divine turnaround and touch in virtually every aspect of the institution's programmes.
Mbieri youths identified some of the areas where the rector has made giant strides to include reduction in examination malpractices and other vices on campus, high level of discipline among students and ensuring that they are not extorted.
Other commendable achievements of the rector according to MNU Youth Wing, were the improvement in student-lecturer cooperation in the institution, digitalization of the polytechnic community and its allied activities, motivation of staff and management of the institution, rapid infrastructural development of the polytechnic among other achievements to the credit of the Arimanwa administration in the institution.
The Mbieri apex youth body therefore commended Rev, Dr. Arimanwa for what it is described as the good work he has done so far in the polytechnic and urged him to keep the flag flying.
While describing the rector as the pride of Mbieri nation, MNU Youth Wing advised detractors to better find something reasonable to keep themselves busy rather than trying to constitute clogs in the wheel of progress of the Arimanwa administration as FedPoly rector, adding that such distractions were calculated attempts to slow down the progress being witnessed in the institution. The youths further urged Mbieri nation and general public to continue to pray for the rector.
Meanwhile MNU Youth Wing has called on the Imo State Government to urgently tackle the deplorable state of roads in Mbieri especially, as the dry season was still on.