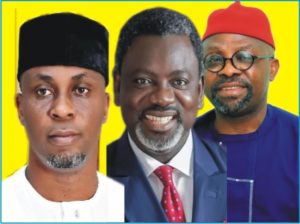 As the 2019 Imo State governorship election inches home on both candidates and voters alike, pundits are predicting that history looks more likely to repeat itself in the governorship election.
Those predicting this possibility say unfolding political events are pointing in the direction of the likelihood of another political feather weight and dark horse emerging as the state helmsman, come March 2, election.
According to some of the analysts who x-rayed the unfolding scenario with the major political parties embroiled in life threatening skirmishes which actors seem hell bent on pursuing to very end, less than one month to the election, their chances of winning the next election is getting slimmer each passing day.
To worsen the already bad situation the actors in the centre of these skirmishes also seem to have sworn never to go to the negotiation table with their rivals, a posturing which many of those who spoke to Nigeria Newspoint argue has foreclosed any possible last minute fence mending or Political reconciliation.
Nigeria Newspoint further learnt that being so fractured and split down the middle, these leading political parties may not be able to muster the needed strength and unity of purpose to win as next Imo governor
As the chances of PDP which is bugged down by the fistcuff between Rt.Hon Emeka Ihedioha and Sen Samuel Anyanwu; APGA struggling under the supremacy battle between Sen Ifeanyi Araraume and Sir Stanley Amuchie and APC split by Gov Rochas Okorocha and Sen Hope Uzodinma, many are saying the odds are high against these older political parties as far the guber poll is concerned.
Instead of the these big parties, analysts are suggesting that the smaller parties may spring surprises in the coming poll.
Accordingly, all eyes have now turned to some of the fresh and young governorship candidates like Mr Ejike Chukwu of African Demoscratic Congress, ADC, Linus Okorie of Young Progressive Party, YPP, Barr Samuel Osuji of MAJA party, Pastor Ikenna Emmanuel of Change Advocate Party,CAP,Barr Humphrey Anumudu of Zenith Labour Party and a few others.
These candidates may not be entirely new in the political terrain but it is believed that they are not encumbered by party crisis,even as they are seen as having little or no political baggage.
The thinking is that with the major gladiators at each others neck in a do or die battle and not ready to concede an inch of ground, many are of the opinion that they may eventually end up settling for one of these dark horses.