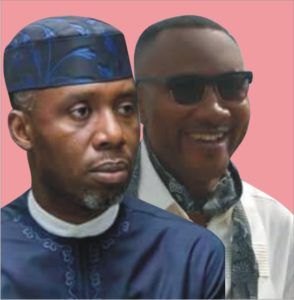 There are strong indications that Gov Rochas Anayo Okorocha has at last jettisoned the idea of Ugwumba Uche Nwosu,his son in law, succeeding him in 2019. Nigera Newspoint authoritatively gathered that the embattled governor has  at last settled for Secretary to the Government of Imo State, SGI, Sir George Eche, instead.
The governor's turn around it was learnt came after the presidency told the governor openly that it is opposed to the cloning his son in law as his successor, an agenda which it reportedly claimed will never fly in Imo state.
Against this backdrop, the governor was said to have thrown in the towel on the controversial project which has overheated the Imo polity for months now.
In the place of the state governor, it was gathered that Gov Okorocha will now position Ugwumba as deputy to his newest choice, Sir Eche.
Competent sources inside APC revealed that lingering controversy surrounding the governor's succession plot was finally put to rest during President Muhammadu Buhari's visit to China.
In fact, it was learnt that this issue was the major reason the president travelled to China with the governor, where they had ample time to extensively discuss the issue.
According to reports, the governor had to capitulate when it dawned on him that the presidency and the national leadership of APC are strongly opposed to the agenda of Ugwumba Nwosu succeeding him.
This latest development it was further learnt was the reason behind the SGI's sudden purchase of the party governorship nomination form less than twenty four hours after Ugwumba Nwosu had bought his own form.
Meanwhile, the opposition in the state have pooh poohed the governors volte face, saying it is too late in the day to change anything.
Beyond this, a leading opposition member who reacted to the development opined that if the arrangement sees the light of the day Ugwumba  Nwosu may likely dominate the government having been in the front burner for far too long in the gubernatorial contest.
However, he was quick to add that the governor's successor agenda had already derailed, pointing out that with or without Ugwumba Nwosu, Imolites have made up their mind on the government.
The general view now, according to feelers is that the governor has become so unpopular that "no Angel he supports can fly" or win the Imo governorship in 2019.