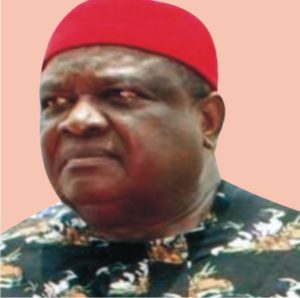 The Performing Musician Association of Nigeria PMAN Imo State, has outlined mouth watering activities to celebrate the 76 birthday of business mogul and elder statesman, Chief Emmanuel Iwuanyanwu.
This was made known to journalists by the Governor of PMAN, Amb. Emma Maduike (Onwa Ideato), during an interview with press men.
The Umuakam, Ideato South, born governor of PMAN who equally is the PRO of Oha-na- Eze Ndi Igbo, spoke extensively on Engr. Iwuanyanwu as a man of foresight, an apex leader of Ndi Igbo as against the impression that Igbos have no king or supreme leader, (Igbo Enwe Eze).
Onwa Ideato during the interview made it clear that Chief Iwuanyanwu was the next person to float a newspaper after Dr. Nnamdi Azikiwe and was the proprietor of Iwuanyanwu Nationale that made great waves in Africa and an international figure who calls a spade, a spade and has never attacked any ruling government in power.
On Chief Iwuanyanwu's advice to Ndi Igbo to come back and invest at home, Onwa Ideato says that Chief Iwuanyanwu who is a real father that preserves the lives of his children, has sounded a serious note of warning to his children "Ndi Igbo", it was the same advice that Dim Ikemba Ojukwu gave to "Ndi Igbo" living in Lagos that made him; (Onwa Ideato), sell all his properties in Lagos and relocated to Igboland and that Chief Iwuanyanwu simply saw the future.
Amb. Maduike equally stated that Chief Iwuanyanwu leads by example that's the reason why the headquarters of all his business is located in Owerri Imo State and not outside Igboland; like Abuja and Lagos.
He frowned at politicians who invest outside Igboland and want to govern Imo State saying that such people are not qualified to govern Imo State and would not succeed because they don't deserve to be leaders in Imo State. He said that Chief Iwuanyanwu has given PMAN the go ahead order to celebrate his 76 birthday and all has been put on ground.
On the society's attitude towards the leaders because of the "Igbo Enwe Eze" syndrome, "Onwa Ideato" stated that it is wrong to insult rich people, leaders and comfortable people branding them money ritualist, saying it scares them away to live and invest in other big cities outside Igboland.
It is not all the rich that got it from the bad means, PMAN boss noted.