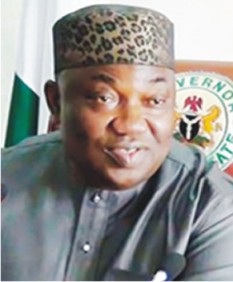 Governor Ifeanyi Ugwuanyi of Enugu State on Monday presented six Toyota Hilux patrol vehicles to the 82 Division of the Nigerian Army to enhance its security operations in the state.
This came as the outgoing General Officer Commanding (GOC) the Division, Major Gen. Adamu Abubakar applauded Gov. Ugwuanyi for his untiring efforts towards the sustenance of peace and security in the state, through the provision of logistics support. He disclosed that "the governor provided all that we required to do our work".
Presenting the vehicles' keys to the GOC, amid excitement, Gov. Ugwuanyi stated that the state government in response to the request from the Division, made funds available for the purchase of the vehicles.
The governor added that it was also "in line with our avowed commitment and continued investment in security and allied matters for the benefit of our people".
According to him, "as a government, we have at various times, provided vehicles and other essential equipment to different security agencies in the state as part of our broad efforts to entrench peace and security everywhere in Enugu State". He noted that the event was "just
another in a series of such initiatives".
Appreciating Gov. Ugwuanyi's gesture, Major Gen. Abubakar said: "As I am leaving Enugu tomorrow morning, I will always remember you Sir, and will always appreciate you. My mouth will not stop praying for you because of the water you provided for us in the Barracks, among other vital support. We remain very grateful to you, Your Excellency.
"I want to thank you also for these vehicles in particular because the ones they are using are aged and the cost of repairing them is always high".
Gov. Ugwuanyi equally thanked the GOC, the Brigade Commander, the officers and men of the Division as well as all other security agencies for their commitment and continuing sacrifices towards the security of the state.
He therefore, reassured the people of his administration's resolve to always ensure that Enugu sustains her enviable status as one of the safest, most secure and most peaceful states in the country.