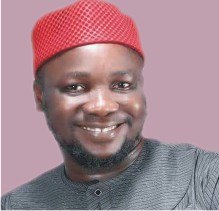 Comrade Precious Nwadike, a frontline aspirant for the Orlu senate seat in the 2019 election, on the platform of United Progressives Party (UPP), Friday 3rd August, 2018 met with the LGA Chairmen of the party in the zone.
The meeting which held at Orlu, provided an opportunity for them to brainstorm on how to reposition and strengthen the party for the challenges ahead and ensure victory for it's candidates in all elective positions, come 2019.
In his speech at the occasion, Comrade Nwadike, former National President of Orluzurumee Youth Assembly and Imo State co-ordinator of OurMumudondo Movement, pleaded for their support and assured them of quality, purposeful and effective representation, if given the mandate to represent Orlu zone in the senate.
"I assure you that victory will be ours because Orlu people have resolved that power must change hands in the interest of greater Orlu people by 2019 and it will no longer be business as usual. I have noted all the issues raised here and assure you that my campaign team will address them. My resolve to represent Orlu zone is the decision of Orlu people who are disenchanted with the poor and abysmal representation of the zone over the years. A situation where few elites believe that the Orlu senate slot is a position they have been settled with, hence they ignore and refuse to carry the people, who are the real owners of the mandate along".
He averred that UPP is one of the few political parties in the country that have no dent or excess baggage. "The party's leadership in the state and at the national level have shown credibility, transparency and impeccable track record, qualities that are lacking in most of the other political parties. The party's manifesto is people oriented and will enhance their welfare". He pleaded with the LGA Chairmen to open their arms to receive the influx of people who will soon join and work assiduously with the party, to actualize the dream of taking over power in 2019.
The human rights activist and social crusader, assured his audience that he will, in his tenure as senator for Orlu zone, work in synergy with relevant institutions and stakeholders to provide enabling environment for business to thrive, ensure massive job creation, human capital development through skill acquisition programmes and provision of start-up capital. "This will be done across board without sentiment in addition to the provision of other dividends of democracy that will give value and impact positively on the lives of our people".
Comrade Nwadike went down memory lane, narrated how proceeds from his tailoring business made it easy for him to graduate from the university. He therefore assured that "youths will be sensitized and equipped to use their talents, skills and areas of comparative advantage to be self employed, become captains of industries and equally create jobs for others, because the era of endlessly searching for elusive white collar jobs are over. To this end, an ultra modern, world class skill acquisition centre to be located in the zone. This will be commissioned within my first year in office". He urged the Chairmen to give him their support and hold him accountable if he reneges on his promises.
In his response, the Orlu Zonal Chairman of UPP, Ogbuagu Udom O.U, described Comrade Precious Nwadike's vision for the zone as brilliant and achievable. According to him, "there is sincerity of purpose in his speech, unlike most aspirants who don't have vision or articulate blue print of what they have in stock for the zone". He assured Nwadike that the LGA Chairmen will convey his message to the grassroots and also commended his initiative to visit and interact with ward Chairmen of the party, ahead of his formal declaration.
A public opinion analyst and stalwart of the party, Sir Emenalo D.J.C, who was also present at the occasion described Comrade Nwadike as a rare specie. He expressed happiness that UPP has become a choice platform for responsible and focused young men with positive antecedents, pedigree and passion to turn around the fortunes of Imo state and it's people. He observed that, Nwadike has, as an individual used his media outfit to promote good governance. "It is a well known fact that he has consistently been on the side of truth, justice and fairness no matter whose ox is gored".
LGA Chairmen who were present at the meeting include; Oliver Ekwedasike, Orlu, Chidozie Mbachu, Ideato South, Ifemelam Celestina, Ohaji Egbema, Uzoukwu Cyril, Ideato North, Solomon Onyekachi, Njaba, Sam Onyeanwuna, Orsu, Hon Vitus Ndikor, Oguta, Hon Chris Ohanka, Nkwerre, Elder Gabrriel Chukwudire, Oru West, Hon John Okolie, Oru East, Elder Felix Emefule, Isu, Engr Kenneth Ohaebosim.
The meeting also had in attendance Comrade Tobenna Cleophas, the State Auditor of the party. He also spoke glowingly about Comrade Nwadike.