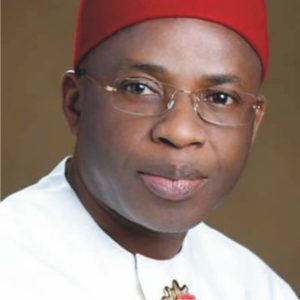 A new wave of hope and excitement has enveloped the entire political space in Imo as the immediate past governor of the state, Dr. Ikedi Ohakim declares to run for a second term on the platform of the All Progressives Grand Alliance, APGA today.
In a press release signed by his Chief Press Secretary, Collins Ughalaa, the former governor who ran the affairs of the Imo between 2007 and 2011, noted that the declaration ceremony marks what he, Ohakim described as "the beginning of the journey to liberate, recover, heal and place Imo back on the rail and in the hands of God".
The event is scheduled to take place at the Kanu Nwankwo Sport Complex, behind Imo State University IMSU, Back Gate Owerri.
Ohakim noted with deep concern what he called "the elevation of greed as state policy, the widespread hunger and poverty coupled with the high rate of infant mortality, unemployment, collapse of the economy in the era of boom, total collapse of governance structures, the desecration of our cherished values and the invasion of our tradition and culture in the face of reign of impunity", reasons he said make it imperative that the best hand with the much needed experience should come to recover Imo state.
Ohakim maintained that what is important at this time was not self pity or blame game but collective responsibility, rational thinking and right choice. According to him, "This is the time to match with strength and unity and reclaim our state.
"We can unitedly reclaim Imo State now or lose it forever. Ikedi Ohakim has answered the myriad of patriotic calls by Imo sons and daughters to come and salvage the comatose condition of the state. Ohakim has the cognate experience, vision and integrity to quickly resolve the myriad of problems created in the state in the last seven years…"
The former Imo number one citizen noted for his administration's knack for quality projects, economic prosperity and prompt payment of salaries and pensions, equally made it clear that no matter what happens, the resolve to recover Imo State was far greater than the will of those he said despoil the state adding that he has only four years or one term to serve if elected.
He also pledged to hand over power back to the rightful zone after just four years.