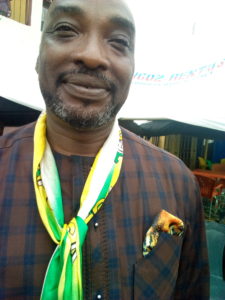 Owerri Federal Constituency yesterday erupted in excitement and happiness following the declaration of intention by Hon Rowland Nwosu to represent the constituency in the House of Representatives in 2019.
Hon Nwosu's declaration which took place at his party, All Progressive Grand Alliance, APGA, office in Obinze, Owerri West LGA, provided him the platform to outline how he intends to take legislative representation to another level in the area.
Addressing the expectant crowd of party executives and members from the three council areas of Owerri North,  West and Municipal made it abundantly clear that he is going to change the face of representation by allowing the electorate decide what he will do in the green chamber.
The aspirant who said that he has taken time to prepare for the task of lawmaking and represention of his people disclosed that the key reason why representatives fail their constituents  is their tendency to personalize their representation.
This bad culture according to him is the reason instead of finding out directly from the community or constituents those things that they need in terms of amenities and other services, elected officials unilaterally decide projects and programs they would attract for those they are representing.
Describing this culture as antithetical to true representation Hon Nwosu posited that for true representation to happen the electorate should at all times set the agenda for their mandate holders who  merely act as Channels for the actualization of the people's agenda.
The APGA Reps hopeful assured that he would banish this top to bottom leadership style and ensure that his people decide everything he would do in Abuja
He noted that he has already in pursuit of this shift put machinery in motion to start collating both individual and collective interests of the people of the constituency promising that he would sieve through these interests with a view to implementing the good ones if elected into office.
Hon Nwosu who also decried what he called the unfair balkanization of Owerri which argued has robbed it of more Federal Constituencies further assured that he would pursue vigorously the agenda of proper delineation of boundaries of the constituency as prelude to fighting for more constituencies.
He also spoke on his plans for youth and women employment and empowerment programmes saying he would pay serious attention to the development of the non formal sector of the economy of the area by leveraging  agencies such as  Small and Medium Enterprises Agency SMEDAN, National Directorate of Employment NDE,  Bank of Industry BOI in the training and equipping of the constituents for self sustenance and financial independence.
Also, contributing APGA Chairman in Owerri West LGA, Mr Emeka Nkwoada described Hon Nwosu as trusted party man who has shown commitment and loyalty adding that his declaration is a welcome development.
Speaking in similar manner,  Hon Charles Anozie who said he had known the aspirant from childhood noted that he has never been found wanting in any task entrusted on him.
Nze Tonex Chukwu who is the Director General of the campaign organization said 2019 is the turn of Owerri West to occupy the constituency seat stressing that it would amount to gross injustice for Owerri North after occupying the seat for eight years to aspire to take it again.
An associate of Hon Nwosu from Anambra State Ifeanyi Teddy Isiadinso stated that the aspirant has the antecedents needed to produce quality and effective representation in Abuja.