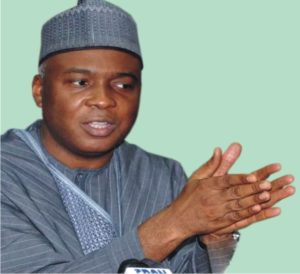 The much speculated mass defection of aggrieved members of the ruling APC has finally happened with the Senate President Abubakar Bukola Saraki leading some fifteen (15) senators to dump the party yesterday. It is also almost certain that not less than three sitting governors are ready to join the defection train.
The planned defection of the Senator Saraki led nPDP which recently broke away from the mainstream APC to for rAPC has dominated the public arena but nobody was able to predict exactly when the political hurricane would blow.
So it was a pleasantly surprised nation that watched the drama of the detection which played out on the floor of the Nigerian Senate on Tuesday.
Although, sources said the presidency and the APC seemed to have got the hints of what was in the offing and made spirited effort to thwart the move the Senate President eventually read out the letters of the defecting senators on the floor of the Senate.
With this deft political move the Senate President  and his rAPC have succeeded in opening the soft underbelly of the ruling party thereby casting further doubts on President Buhari's re election bid.