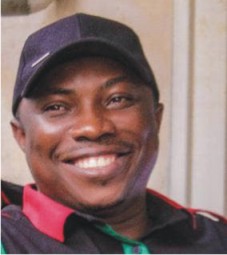 A frontline POP Aspirant to the Ezinihitte Mbaise State Constituency seat for the 2019 elections, Engr. Kingsiey Onwubiko has assured his people of his preparedness to add value to State Legislation when elected to represent Ezinihitte Mbaise at the Imo House of Assembly come 2019.
Speaking at the sidelines of the Peoples Democratic Party PDP sensitization rally at Itu, the Ezinihitte Mbaise Council headquarters, Engr. Onwubiko informed that his motivation to accept his people's offer for him to run was to strategically reposition the area through sound legislation and that he has the courage to re-write the wrongs of the very recent past, since according to him "it is very glaring that Ezinihitte Mbaise have lost its status".
The Federal University of Technology Owerri, FUTO trained civil Engineer, regretted that Ezinihitte Mbaise that used to be a strong and united front especially in leadership in Nigeria and in Imo State now comes last in performance, a norm he vowed that he has the requisite capacity to correct as no representative of a people should have reasons not to deliver as it is the case presently with Ezinihitte Mbaise state constituency.
Engr. Kingsley Onwubiko also announced his setting up of a technical committee to assess and identify the problems of Ezinihitte Mbaise and bring up a report on them, this he said will enable him to hit the ground running on assumption of office.