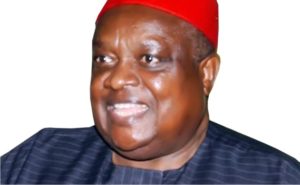 The Elders Council of Owerri Peoples Assembly has been inaugurated with a charge to defend the course of Owerri people.
The Elders Council was inaugurated by the President General of the Assembly Chief Emmanuel Iwuanyanwu at the Lady Eudora Iwuanyanwu Conference hall, Ugwu Orji, Owerri Imo state.
Chief Iwuanyanwu while performing the ceremony which has Dr. Paschal Dozie as Chairman and the former Chairman of the Imo State Council of Nigeria Union of Journalists (NUJ) who is also the Secretary General of the Assembly Ben Osuagwu as Secretary urged them to see their appointments as an honour and privilege to serve in the highest organ of the Assembly.
Chief Iwuanyanwu said that the Assembly which is a socio-cultural organization takes interest in all affairs affecting the people of Owerri.
The Elder Statesman and foremost philanthropist commended the USA and United Kingdom branches of Owerri Peoples Assembly headed by Chief Joe Etoh and Sir Adolph Agbasonu for their able leadership in piloting the affairs of Owerri Peoples Assembly. He observed that the two branches are very formidable and vibrant.
Chief Iwuanyanwu commended the President of Abuja branch of Owerri, Peoples Assembly and the National Co-ordinator of the OPA 2017 Annual Convention Chief Sam Obaji and his team for the able way they galvanized support from within and outside the country which made the 2017 Annual Convention a very successful one.
Chief Iwuanyanwu reminded members of the Elders Council, that Owerri Peoples Assembly is the umbrella that unites every person born in Owerri.
He said that from the date of birth, every child born from Owerri is a member of Owerri Peoples Assembly.
The President General of the Peoples Assembly enjoined all members of the Elders Council to lead by example and always rise to the challenge in defence of the rights and privileges of Owerri People.
Chief Iwuanyanwu also brought to their attention, the Skills Acquisition Programme of Owerri Peoples Assembly aimed at industrializing every autonomous community in Owerri and pleaded with the Elders to carry the programme to all their autonomous communities to reduce the level of unemployment among the youths in Owerri.
In a vote of thanks, a member of the Elders Council Barr. CY Anyanwu lauded the President General of the Assembly Chief Iwuanyanwu for all his efforts in piloting the activities of the Assembly right from its formation to date.
Barr. Anyanwu who is the President General of EzuruezuMbaise assured that members will live up to expectation.
Among the members inaugurated were the Chairman of the Elders Council Dr. Paschal Dozie, the Deputy-President-General of OPA H.E Air Commodore Dr. L.C Ochulor (rtd), General Ihekire (rtd) President of  Abuja Branch Chief Sam Obaji, President of USA Branch Mr. Joe Etoh, Patron of USA Branch Chief Theo Egbujor, President UK Branch of OPA Sir Adolph Agbasonu, H.E Dr Ada Okwuonu, Sen. Chris N.D Anyanwu, Chief Leo Stan Eke, Dr. Philip Oduoza, Former Inspector General of Police Sir Mike Okiro, DIG Hilary Opara (rtd), AIG Charles Agomuo (rtd), Engr Law Eronini, Sir Levy Oguike, Dr. OkeyAguwa, General Rowland Ogbonna (rtd), Commodore Osuagwu (rtd), CEO ABC Transport Mr. Frank Nneji, Capt Emma Iheanacho, Prof Lady Victoria Nwaigwe, HRM Eze Samuel  AgunwaOhiri- Chairman, Imo State Council of Traditional Rulers & Chairman Owerri Peoples Assembly Council of Traditional Elders Council, Engr. Ignatius Okeahialam and Chief Mike Ahamba (SAN).
Others are HRH Eze Emma Assor, Prof Val Ekechukwu, Prof Peter Okorie, Rev Fr. Prof Marcel Onyeocha, Prof ChinweObaji, Dame Comfort Obi, Lady IjeomaEronini, Chief G.C Ekwueme – OduIkeduru, H.E EzeMadumere – Deputy Governor of Imo State. Barr. Marcel Nlemigbo, Prince LemmyAkakem, NzeHerbert Chikwe, Prof Viola Onwuliri, Chief Chris Anukam, Dr. Sam Amadi, Sir UchegbulemOkorie, Chief C.N Ogbuehi, Dr. Alex Esomonu, Barr DC Denwigwe (SAN), Okenze Sylvester Obinna, Chief Eddy Nwoko , Lady Gertrude Iroemeh Prince BoboNjemanze, and Dr. Eddy Agulanna.
Also inaugurated are Sir Eustace Eke, Dr Ray Opara, Barr C.J Ihemedu, Sir Martin Ononuju, Prof Eugene Opara, Mrs Edith Akuruka, Dr. Mrs. Agatha Ndugbu (CON), Barr Willie Amadi Commissioner – Public Complaints Commission, Prof Jude Njoku, Lady Anne Dozie, Barr Cyril I. Anyanwu –President General EzuruezuMbaise, HRH Eze E.S Okoro, HRH Eze Ben Nwaneri, Hon Justice B.A Njemanze, Prof Placid Njoku, Chief Charles Okoro and the Secretary – General of the Assembly Ben Osuagwu who is also the secretary to the Council.
The Assembly covers the Geographical area of AbohMbasie, Ahiazu, Ezinihitte, Ikeduru, Owerri Municipal, Owerri West, OwerriNorth ,Mbaitoli, NgorOkpala, Agwa Clan in Oguta LGA and Ohaji/Egbema.