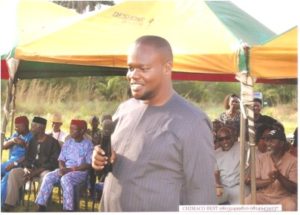 The Peoples Democratic Party (PDP) aspirant in Amiri, Oru East Local Government Area, Imo State, Mr. Chigozie Nwaneri has said he would change the change that has not benefited the people since the beginning of this administration.
Mr. Nwaneri made this statement during his declaration to intimate the PDP members in Oru East LGA, about his ambition to run for Oru East State Constituency in Imo House of Assembly (IMHA).
Continuing, Mr. Nwaneri said the fear of God was needed to run public offices for accountability and probity. He also said that if elected into the office as a member of Imo House of Assembly that the fear of God would be seen in his administrative style.
Speaking to Nigeria Newspoint on what he intends to achieve, Mr. Chigozie Nwaneri said that he would look into youth affairs by moving  a motion that would empower the youths in order to reduce youth restiveness in the state, in addition to other laws that would help develop the state.
On his part, the PDP chairman of Oru East LGA, Comrade Anayo Nwajiezie told the aspirant that PDP has come to stay and therefore, should make everything possible to usher him into the State House of Assembly if only he would be positive minded and carry everybody along because days are gone when promises were made without  fulfilling them.
Comrade Nwajiezie did not mince words when he told party members to work towards winning elections, not minding the propaganda that was being carried by oppositions.
Party leaders in their various reactions told Nwaneri to work towards the right direction by bringing up a policy framework that would favour the party and the entire Imolites because PDP does not discrimate.
At the event were Oru East PDP stakeholders, leaders, members, ward chairmen and youths.