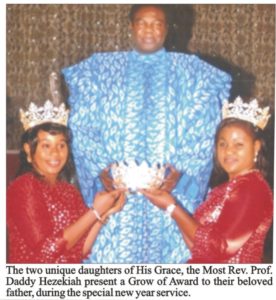 The founder and leader of Living Christ Mission Inc, His Grace, the Most Rev. Prof. Daddy Hezekiah has called on Christians to strive and enter the kingdom of God through the narrow gate as there are many people that will try to enter into God's kingdom but cannot because of sins, distractions and other unforeseen forces as there will be lots of surprises on the last day.
Rev. Daddy Hezekiah made this call during his new year special service to mark 2018 at the Church Cathedral at Onitsha, Anambra State.
The prelate said one can only walk through the narrow gate by being born again, practicing holiness and righteousness, eschewing wickedness, hatred, jealously, adultery, fornication, lying and by abiding in God's commandments and the Holy word of God that is the Bible.
Rev. Prof. Daddy Hezekiah while preaching from Luke 6, Psalm, 91 Matthew 22 and Isaiah 3 made it clear that 2018 will be a year of temptation, death, incurable diseases, hardship, sickness, accident and ugly experiences. However, he added that many good things will equally abound in the year and he added that its one's actions that will attract the ugly side of the prophecy or the good side as the scripture says "tell the righteous it shall be well with Him but to the wicked, it shall not be well with him, "as God will answer the righteous man whenever he calls him.
The great man of God who is also the chancellor of Hezekiah University Umudi urged Christians not to fear the terror of 2018 rather to always read Psalm  11 and use it as their hand bag, read their bible, pray fervently and practice righteousness.
Rev. Daddy Hezekiah made it clear that God is Holy and one can only get at Him though righteous living". Citing the book of Luke 6, the man of God established that God knows our hearts, reads and understand our troubled souls and signs and he warned Christians to avoid the ways of the Pharisees and Chief Priests who attend church services to accuse our Lord and Savior Jesus Christ, to frustrate the people Jesus healed, to fight the innocent and molest the downtrodden thereby making the house of God a hell on earth for the innocent.
Rev. Daddy Hezekiah revealed the secrets of surviving the prediction 2018 as follows:-One should confess his sins to God and equally desist from it, to rejoice with those that rejoices and not to jealous them, to be compassionate, walking through the narrow gate, making God your refuge and fortress and not visiting native doctors or secret societies by building ones spiritual foundation on the solid rock of Jesus Christ, being peaceful, loving good and abhorring evil.
The prophet of God assured that Christians will survive 2018 and beyond if they resolve to set God at their right hand in all they will embark on, imitate Jesus and seek God's protection in their daily endeavours, watching and praying always, and cherishing God in all they do. He advised people to always tell God the truth, knowing that one day God will judge every one's action before His throne.
Rev. Daddy Hezekiah assured Christians that God will not abandon His children as contained in John 14 v 21 and 23. Pointing out once God's children love him and keep his commandments. He would never forsake nor abandon them.
Teaching from Psalm 91, he revealed to Christians that if they obey God that the passage will be their bed rock and guiding principle for 2018 as God has already given His angels charge to protect His children against deadly, pestilences, arrows that fly by day and the pestilence that stalks in darkness, from the destruction that wastes at noonday. He added that a thousand may fall at their side and ten thousand at their right hand but  that nothing will come near them and no evil shall befall them as God will answer their prayers, be with them in trouble, rescue and honour them with long life and show them salvation.