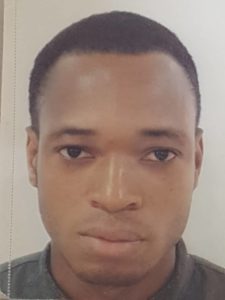 The Federal Government of Nigeria has declared a 29 year-old Journalist,Mr Okonkwo Johnbosco Chiebonam wanted for what it described as "playing vital role in the promotion of activities of Indigenous People of Biafra,IPOB .
Nigeria Newspoint gathered that Mr Okonkwo who was born in May 20,1990 is a notorious journalist who is said to have been helping in the promotion of IPOB's ideas for South East seperation from Nigeria led by President  Muhammadu Buhari,an Islamic extremist.
Nigerian government has further alleged that Mr Okonkwo is "carrying out hidden functions for IPOB,the Federal government will not tolerate such person (s) with the aim of damaging the image of the country"
The government ment also noted that the wanted Journalist writes for the Biafra Telegraph magazine,hiding his real identity.
Mr Okonkwo is also said to have been active in several protests of IPOB against the unity of federal republic of Nigeria.
"Any body with the knowledge of his where about should report to the nearest police station and the informant would be greatly rewarded", a release stated.
**ACHIVE**