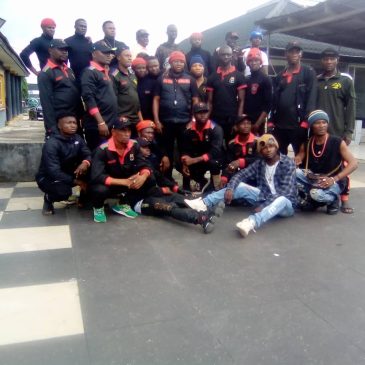 …Warns youths against crime, violence
Commanders of  the Community Security Outfit, 'Say No To Crime': Okoro Bosa and Orisa Anthony, have revealed that the militia arm of Indigenous People of Biafra (IPOB), Eastern Security Network (ESN), has been dislodged in Ohaji/Egbema and Oguta Local Government Areas of Imo State.
They said 'Say No To Crime' Security Outfit had chased ESN out of these areas with collective efforts which has returned peace, calmness and tranquillity to the oil producing communities.
The Commanders stated this when they spoke with journalists in Owerri on Monday.
Okoro Bosa who is the Commander of Say No To Crime in Ohaji/Egbema, noted that the Security Outfit, which he said came into being two years ago, has restored peace at Ohaji/Egbema enclave given the doggedness, determination and sincerity of men of the security apparatus, saying the area is now peaceful with business and other social activities going on smoothly.
He  observed that ESN, which has made life miserable for the people, no longer exists in the locality as it has been dismantled, stressing that members of the security apparatus are in form to wardoff any insecurity in the oil rich kingdom, cautioning youths against crime and violence. They urged the people who left their homes for fear of being attacked to come back home as peace has returned to the area.
They called on state government Ied by Governor Hope Uzodinma to support the men of Say No To Crime Security Outfit the more by making gadgets and vehicles available for them for community crime fighting.
In his remarks, the Operation Leader in Oguta LGA, Orisa Anthony, also asserted  that peace has returned to Izombe and other communities around  the locality.
"We need gadgets and vehicles to be able to combat crime and violence to standstill. We chased ESN out of Ohaji/ Egbema and Oguta with mere machetes. We need more empowerment", he stated.
The two commanders jointly commended the support they have been gaining since its formation from Commissioner of Police , Rt. Hon. Eugene Dibiagwu, Rt Hon Opiah Goodluck, DSP Ola, O/C, Anti-Kidnappig Department, stressing that their immense gratitude goes to Inspector Chika (Kill and Bury) who has been encouraging them and backing them in all their combat in the area. They noted that Inspector Chika has been doing alot to ensuring that they are committed to ending violence and crime in the area.
NIGERIA NEWSPOINT