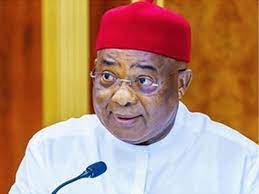 Ahead of the November Governorship election in the state, Hope Uzodinma is in disarray, confused and has resorted to shadow chase simply because Imo people have unanimously rejected him and his government. He cannot buy the support of Imo people by threatening them. Never!
Today in Imo state, no community, LGA, or Zone is taking the APC government serious since the rejection became intense. As a result of this; Uzodinma is threatening and forcing Imo people to be loyal to him under duress by illegally arresting innocent Imo citizens for committing no crime or offense.
Few days ago, in a display of crude immorality, Traditional Rulers of Orlu zone extraction who are reportedly under trial were induced by Uzodinma to pour libation against any Orlu person that will vote against the insensitive and cruel APC administration in the state. This is at the heels of mourning, agony and regrets of Orlu people whose children, brothers, sisters and relatives were murdered in cold blood with their buildings utterly razed by suspected government agents.
Not only that Uzodinma's administration has given Imo people heavy punches, destroyed their businesses, refused to protect them from attack as the Chief Security Officer, the APC government is viewed as a dreaded pandemic in the society.
Regrettably, as a result of the rejection, Uzodinma and his party have delegated their hirelings to resort to blackmail and destructive propaganda against the PDP candidates, Senator Samuel Anyanwu and his Deputy, Rt Hon Jones Onyereri to score cheap political relevance. Laughably, what Uzodinma fails to understand is that no body, not even appointees of his government are taking him serious again.
In all these atrocities indicting the government of APC, it is only an uninformed person who is not based in the state that will ever canvass votes for Uzodinma and his party. The prayer in every nook and cranny  of the state today is that nothing like Uzodinma and APC will ever occur in Imo state.
What Imo people are yearning for now is a government of peace, unity, accountability, probity and human resource based. Imo people have had a rough experience since APC assumed office in the last three years.
Collectively, Imo people have searched widely and have cautiously identified the Governorship Candidates of the Peoples Democratic Party,PDP, Senator Samuel Nnaemeka Anyanwu and his Deputy, Rt Hon Jones Onyereri as better alternative to wipe away  their tears, bring back normalcy and restoring confidence. The PDP and its candidates are coming to correct what the outgoing administration of APC destroyed. It may appear impossible but this promise cannot be compromised.
Imo Shall Be Safe Again!
Ikenna Onuoha,
Director, Media and Publicity
Sam-Jones Gubernatorial Campaign Council
NIGERIA NEWSPOINT