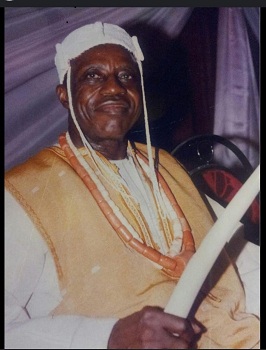 The people of Obi Mbieri Autonomous Community in Mbaitoli LGA,Imo State, South East Nigeria have been commended for their commitment to the unity, peace and development of their community.
The Paramount ruler of the community, His Royal Highness Eze (Elder) Dr Josiah Nzeremibe Osuji made the commendation in a goodwill message to his people during the week.
He said that the various landmark achievements Obi Mbieri recorded in various aspects of critical infrastructure was consequent upon the unwavering/unalloyed support of the people and love which they have generously demonstrated towards him.
Eze Osuji urged his people to remain steadfast and not to be dismayed or distracted by the nefarious activities of few disgruntled  individuals who are fanning the embers of discord in the community for their selfish interest, adding that they have been checkmated.
He said that no matter what his detractors are doing to pull him down, they cannot erase his monumental  achievements in the provision of basic infrastructural facilities.
"They cannot say that I did not single handedly build and equipped the Obi Mbieri School of Health Technology, the third of its kind in Imo State and first of its kind in Mbaitoli and Owerri Zone which currently has over 250 students.
"They cannot say that I did not single handedly power the six villages in Obi Mbieri with Solar Street Light.
"They cannot say that I did not single handedly make funds available for the six villages in Obi Mbieri to purchase transformers for the electrification of the community.
"They cannot say that I have not single handedly constructed a three-Kilometer network of drainage to channel storm water out of the community while work on the drainage project is ongoing.
"They will not say that I did not single handedly set up the Obi Mbieri Vigilante outfit and equipped it for better and effective policing of the community.
"They will not say that I have stopped the annual grading of Ogwa  – Umuahii – Obokwe  – Orie Mbieri road and many others", Eze Osuji recounted .
The Obi Mbieri Monarch counselled  those who are labouring to topple him inorder to become the Eze of the community to wait for God's time.
According to him "There cannot be two Monarchs in  Obi Mbieri".  He noted that leadership is a serious responsibility and assured that he would continue to provide a robust and purposeful leadership for the continued growth and progress of Obi Mbieri in an atmosphere of peace and tranquillity.
Eze Osuji who is also a Grand Patron of Imo State Towns Development Association Lagos, thanked Obi Mbieri sons and daughters who have contributed to the development of their community and enjoined them to keep it up.