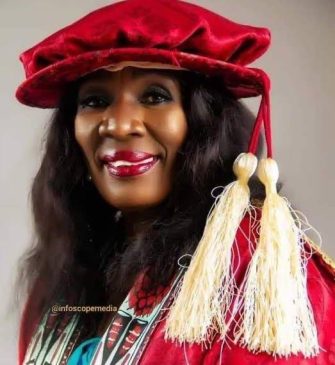 From Isi gate, Umuahia's busiest area, to Federal Medical Centre (FMC), Umuahia, the people of Abia state on Wednesday, March 22, 2023, went into a frenzy as they celebrated the declaration of
  Dr Alex Otti of the Labour Party as the state's Governor-elect.
As commercial tricycle operators conveyed passengers to their destinations without collecting fares, sound of gunshots and local landmines were heard in some parts of the capital city as the people celebrate Otti's victory.
Abia's Gubernatorial election gained more national prominence when the Independent National Electoral Commission (INEC) suspended the collation of results on March 20, 2023. It was reported that while Otti had won 10 Local Government Areas out of the 16 declared and maintained a clear lead, Prof Oti rejected the result from Obingwa as it was fictitious and did not tally with the accredited number of voters as recorded in the Bimodal Voter Accreditation System (BVAS).
In an election where less than 500,000 people voted, many citizens were disturbed when the results of the state's governorship poll was not announced a day after the poll. Tension started building up across the state due to the long wait for the announcement of the result which many claimed was due to attempts by some politicians to subvert the process. But the dedication of the Returning Officer and Vice Chancellor of the Federal University of Technology, Owerri (FUTO), Professor Nnenna Oti, to ensure the right thing is done gave the public a hint about their suspicion.
Professor Oti's comment on her unwavering decision not to subvert the will of the people became a ray of hope to Abians.
"I shall stand squarely unapologetically on my principles. The people's votes and mandate must stand. I shall do right by God and by man," she said amid reports of threats to her life.
When the results of the election and winner were eventually announced on Wednesday, people online praised Otti as a hero for not allowing the will of the people to be subverted.
"The mother in me, and the pastor in me will not allow me to do anything that will adversely affect the future of our children," she said.
"Today, I celebrate Nnenna Oti for your bravery and unwavering commitment to the truth. Despite the pressure to declare a false result and leave the matter for the courts, you stood firm and resolute," one Twitter user wrote.
Neusroom asked FUTO students and including alumni who knew what Oti stood for, and here's what we learned.
Some students and alumni of FUTO who spoke to Neusroom about Otti's personality described her as principled, ethical, and conscientious.
" I passed through her," Chioma Eze, a FUTO alumna who graduated from the Department of Soil Science in 2021, told Neusroom.
"During my final year project, she was supposed to be my project supervisor, but given her super busy schedule, she handed me over to another professor. She's intolerant of nonsense and prudent, I must say," she added.
Another alumna who is Chioma's set corroborated her claim.
"She was our Head of Department when we were at 100 level. Everybody knows about her principles."
But Ndubuisi, a student of Mechanical Engineering who hails from Abia State, claims that hostel accommodations have been doubled since she resumed office.
"I know she did well by refusing to succumb to pressure, but she doubled hostel fees and increased school fees as well."
Born on November 15, 1958, in Afikpo North, Ebonyi State, Nigeria, Oti gained national prominence in 2021 when she became the first female Vice-Chancellor of FUTO and the institution's 8th Vice-Chancellor.
A professor of soil science and environmental conservation, Oti obtained her first degree from the University of Nigeria in soil science with a first-class and a Master's in soil biology and biochemistry from the same University. She capped her academic laurels with a Ph.D. in Soil and Environmental Conservation from FUTO.
Oti's administration as VC came under criticism in 2021 for appointing the Minister of Communication and Digital Economy, Isa Ali Pantami, as Professor without following due process.
NIGERIA NEWSPOINT