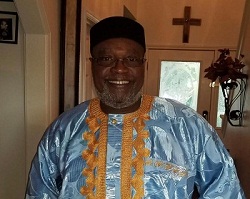 This is to inform all Traditional Rulers in Imo State that the paraded Crown Prince is allegedly not of Njemanze bloodline and must not be welcomed as a representative of the Njemanze family-dynasty.
There is a Lawsuit currently in  an Owerri High Court, challenging the legality of this alleged  fake Crown Prince.  His father was reportedly brought to the Njemanze family and allegedly not born into the Njemanze family.  DNA will prove us right.  Owerre does NOT have a crown prince system.  The only Crown Prince was crowned by my late dad, Eze Alexius Anumaku Njemanze before his death, when his failing health was limiting his ability to fully represent his People.  Hence, he appointed his nephew, Eze Emmanuel Osuji Njemanze to represent him as the Crown Prince.  He was later crowned Ozurigbo V.
All nations with Crown Princes had the living King anoint and confer the title to them while they are still living.  Owerre does not need a Crown Prince.  We need an Ozurigbo VI of Owerre.  We don't have one, period.
The current lawsuit prohibits anyone from parading the so called person as Crown Prince until the lawsuit is concluded in the designated courtroom.  The so called person was never coronated as Crown Prince, and hence should not be referred to or addressed as a Crown Prince.  Parading this individual as one is in violation of the Court order, and deceiving Imolites.
This alleged fake Crown Prince  is supposedly a retired Judge in Imo State who should be very educated with state laws and should not be violating court orders.  The only way to determine if the so called Crown Prince is allegedly of the Njemanze bloodline is via DNA testing with the established Njemanze families.  Remember, they claimed my brother Charles was adopted, very laughable.  We followed up with my parent's wedding picture and Charles tested with our cousin for DNA.  The result confirmed they were brothers by 99.99% and hence full blooded Njemanzes.  Now we are challenging the publishers of the fraudulent Article to their own DNA.  The adopted child quickly had a DNA test and the lying elders are on the run.
My father before his death told us all that the so called Crown Prince's dad was allegedly  not an  Njemanze descendant and that the fake crown prince's father was allegedly brought to the Njemanze family by his mother, who was my late uncle's wife.  My father refused to confer any title to members of his family for the same reason.  My father told us that the last name of Bob Kay's Crown Prince was reportedly Morgan.  He then said that the last name was changed from Morgan to Njemanze to enable his dad  get a job then at Shell Company in Owerri.  His alleged  biological name is Morgan.  My late uncle, Ozurigbo II (MPA Chief) had an agreement or agreed knowledge that for him to provide Shell Company a piece of land to build on, they must hire Njemanzes that needed jobs.  Hence, everyone was quickly changing their last names to Njemanze to help them secure a job at Shell Company in Owerri.  All those alleged Non Njemanzes are still using Njemanze as their last name even when they allegedly have No biological relationship with the Njemanze family.  That is the problem in our family today, they are all greedy.  They are the affluent members by taking all Njemanze Lands.  The Real Njemanzes back home are very few and cannot fight back due to financial restrain.  The Njemanzes are suffering while the Non Njemanzes are selling our lands and building mansions with the money acquired from our land sale.  Our youths are neglected and left to suffer.  It is a shame when ONE person can acquire 25 plots while leaving our youths with poverty and heartache.
The REAL Njemanzes are alerting all traditional rulers to reject this purported Crown Prince from any royal or traditional visits on behalf of the Njemanze family.  Traditional rulers can welcome him at their own risk.  The non coronated Crown Prince should be encouraged to complete a DNA test to validate his hereditary.
A Non Njemanze should not and will never be allowed to ascend to our throne.  Anyone aspiring to the throne must complete a DNA test to confirm bloodline and hereditary.  We are asking Imolites to be patient as we continue to fight the  Non Njemanze group in the battle for our Grandfather's throne.  We are all under a Court order, but the alleged Non Njemanzes are violating the court order by visiting a local Eze and parading the alleged  Non Njemanze as Crown Prince.  The said traditional ruler thought he was welcoming the real Eze Njemanze, but was totally disappointed.  They even presented him with a sick and ANEMIC goat.
After the court ruling, the Njemanzes will go through the process of selecting our Ozurigbo VI.  We promise we are ready to take the case all the way to the Supreme Court of Nigeria because the only way to determine bloodline is through a supervised DNA test.  Charles Njemanze and his cousin are both DNA tested and so should all others claiming to be Njemanze. " The adopted Njemanze ran to get his DNA test and the REAL Njemanzes are running away from DNA".  The Judge has to make them do it, please.  Bob Kay is not Njemanze King Maker and must be stopped at every step. So help us God.
This is the reason we are pushing for DNA tests to help identify these alleged Non Njemanzes.  We know who they are, but can only confirm our beliefs through a simple and painless DNA test.  It will be a travesty of injustice if a Judge will rule in this lawsuit without court ordered DNA.  We allowed them to use our last name freely but now they want our sacred throne too.
The real Njemanzes are now tenants.  Our landed properties left behind by our Grandfather and Parents are all sold to strangers.  Our neighbors in our various compounds are strangers.  The proceeds from our land sales goes to the same group each time under the alleged supervision of one Deckland  whose alleged  real last name is Obi from Umuguma.  Everyone knows my father was outspoken and fearless.  He called them all out before his death.  Our so called step brother Victor Anumaku Njemanze knows this history but due to his jealousy and hatred for his younger step brother, is  supporting,an  alleged Non Njemanze to be Ozurigbo.  He even signed the fraudulent publication that stated his brother Charles was adopted just because they allegedly gave him a piece of land to shut him up.  Shame, Shame, and Shame!.
My dear Imolites and my Governor, the only way to make sure a full blooded Njemanze is crowned Ozurigbo VI of Owerre is by a DNA test of all the defendants.  I am willing to take a DNA test myself.  My brother Charles has taken his DNA test and so should others.  Our dynasty must be restored and the Njemanzes abroad are ready for the fight ahead so help us God.
Please, the alleged fake Crown Prince and  others should be tested to determine if they are Njemanzes.  The DNA testing process is very simple and painless.  Only their Royal Saliva is needed on a swab for testing.
We hope and pray that a DNA test will become the most common test used to establish bloodline in the State.  The Njemanze family has a lot of "Umu Nga" Njemanze that are defined as non Njemanzes that were brought to the family by our Grandfather as farmers and by our uncles as drivers, cooks, etc.  They are allegedly not of our bloodline and cannot ascend to our throne.
The result and disposition of our current lawsuit will be solely decided by DNA to compare Y-chromosomes of the Njemanze sons.   Nde Owerre, please stay tuned, for the truth will set us free.  They will all be disgraced.  May God and our forefathers fight our battles.  I hope you enjoyed the beautiful wedding picture of my elegant parents.
I remain always, Stella Anumaku Njemanze- Neboh
NIGERIA NEWSPOINT