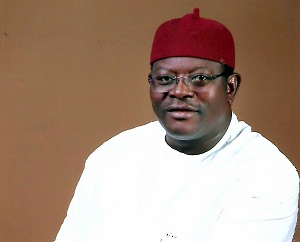 Senator Obinna Ogba has donated his campaign office located along Ezza Road, Abakaliki to the Atiku/Okowa 2023 presidential campaign organization.
Senator Ogba made this known while addressing the press at the  facility which has now been donated to Atiku/Okowa campaign organization.
He said this while interacting with the press to ensure that the media does not form their own opinion at his decision after the Supreme Court has affirmed Chief Dr. Ifeanyichukwu Odoh as the authentic guber candidate of the People's Democratic Party in the state.
Senator Ogba said that he has forgiven those who betrayed him.
He insisted that he is still a member of PDP and thanked his family, party supporters for standing by him in spite of losing in the PDP gubernatorial primary election held in the state. According to him, "It is difficult to stay with a loser". Still, none of his supporters left him although he did not win the guber primary.
Senator Ogba restated the need for peace in Ebonyi State and said that Ebonyi State needs peace. When asked to confirm if he has been appointed the Director General of Dr. Ifeanyichukwu Odoh's campaign organization, he said that he is not aware of the appointment.
He expressed his gratitude to his party leaders at all levels, especially Dr. Anyim Pius Anyim for the inspiration he drew from him.
He said that "whatever decision he will take from now, shall be in the interest of his supporters, followers who were with him while the litigations lasted.
He said through the political process and the legal battle took them time, but it never took their lives, dragged their patience and also attested their emotions but never led to flexing of muscles, nor death of a single soul. I return all the Glory to God".
On his political stand, he said that he was first a human being before venturing into politics.
He is a believer of politics of greater good for a greater number of people that is what the focus for the days ahead will be. Ebonyi people deserves peace, welfare and happiness. In every context, the human plan is always to win, but nature always has a way of letting us win some and lose some.
"I have forgiven those who willingly our unjustly betrayed or just course. Lessons have been learnt more knowledge acquired and who knows what God has driven away from our intension and our own believe from the things he has in abundance for us and ahead of us. I will take this privilege to heart. All things work together for them that love God. To God be the Glory. Ebonyi state shall be happy again." He concluded
NIGERIA NEWSPOINT