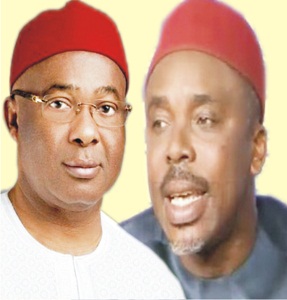 …Seeks balanced reportage, partnership
…Says: Insecurity   politicized out of proportion
In a bid to properly create awareness and propagate the  many achievements of the Imo State Government, under the  administration of  Governor Hope Uzodinma, his Special Adviser on Political Matters,Barr. Enyinnaya Onuegbu (Ebekuodike) has paid special visit to Nigeria Newspoint seeking media collaboration.
Speaking,the SA  maintained that Government cannot do its work very effectively without the  Media to create the needed awareness about the  very many projects and policies of government.
Accompanied in the visit was the Senior Special Adviser to Governor on Print Media,Hon.Modestus Nwamkpa who Publishes the Big Truth Newspaper.
Barr.Onuegbu also pointed out   that government cannot effectively carry out its agenda   without  the media, believing that Nigeria Newspoint as one of the leading Media outfits in the state is very well positioned  to assist the government,  media wise and as suesb or the company's support.
He further opined that huge achievements have been recorded in Imo State under the Uzodinma Administration, but regretted that people are yet to know about them because of poor media relationship.
The Special Adviser informed Newspoint Publisher  that the present government has recorded successes  in the areas of roads rehabilitation and reconstruction, prompt payment of Retirees and Workers salaries, putting in place Data Centre to keep proper information concerning Government matters,tamed the scourge of corruption both in the State and at the Local Governments by putting in place workable and transperant Fiscal Policy.
Barr.Enyinnaya however, regretted that all these monumental achievements are poorly  captured in the media accompanied with the negative media reports orchestrated by the opposition who are bent on propagating lies against the Government.
He said that the security situation in Imo State is blown out of proportion by the oppositions who refused to acknowledge the steps taken by the Governor in handling insecurity in the State maintaining security issue don't have to be politicized.
"The Governor should be encouraged and not be distracted.In Imo we play politics with  every thing.Political parties should be seen as vehicle to govern the people,"he said.
He therefore stressed the need for the media to portray the State government activities in good light and emphasize much on the things that will unite the State as  government is ready to work hand in hand with the media in the state.
Responding, the Publisher and Editor-in-Chief of Nigeria Newspoint, Elder Lambert Ezekwesiri Ojukwu  described the visit as a good move that will go a long way to help project and protect the image of the Government.
He thanked the Special Adviser for visiting the Media outfit and promised him of  a good working relationship.
Elder Ojukwu informed that the media as the Fourth Estate of the Realm is not a political party and should not be treated as such.
He maintained that the duty of the media is to put in check activities of Government as it regards to the good of the people and help to project its policies.
NIGERIA NEWSPOINT