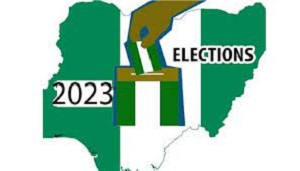 Democracy implies  service to the people. This explains why political office  seekers must engage the masses, stakeholders and interest groups at town hall meetings and other fora.
The Independent National Electoral Commission, INEC, has   scheduled September 28 to take off date for full blown campaigns by the various political parties, during which candidates for the various elective positions will interact with Nigerians on  what they intend to do for the people if elected into office.
It is noteworthy to say that the country has or is still passing through some of her most trying periods as the nation apparently totters on socio-economic economic precipice.
In this regard,, no right-thinking citizen of the country will expect anything less than a campaign dominated by issues of mounting insecurity, rising food prices,  power and energy crisis, mass unemployment, hunger and looming starvation, hyper inflation and a generally tumbling economy.
There is equally the case of the ongoing strike action embarked upon by the Academic Staff Union of Universities, ASUU, which has paralyzed  university education in the country for nearly six months.
The issue of insecurity occasioned by the rise of ethnic militias; the menace of armed nomadic cattle rearers or herdsmen  in various parts of the country especially in southern Nigeria and the Middle Belt coupled with insurgency in most parts of the north, and ever-rising cost of living, must take centre stage in the campaigns
The iseeming inability of the leadership to pragmatically address these challenges, sparks apprehension on the part of the citizens and casts in doubts in the minds of the citizens as to whether   hope still lies for the nation.
Issues as these underscore the peculiar nature of the 2023 polls.
In this connect, 2023 must go beyond the usual politicking associated with the country's electioneering. It is a widely-held view that those aspiring to lead the country in 2023 must be persons well acquainted with the current challenge and posses the capacity to solve them..
Such candidates are expected to convince the citizens that they have the wherewithal to address the nation's problems. They will not only tell the people what they will do, but how and when they will do it.
Days are gone when politicians  hiding under popular or major political parties to win elections.
Those who have nothing to offer must give way for leaders desirous of adding value.
Campaigns of calumny and mudslinging are no longer fashionable.
What Nigerians access Ethno-religious divides demand right now, is a way out of  the present socio-economic hardship  and quagmire; nothing less that!
NIGERIA NEWSPOINT