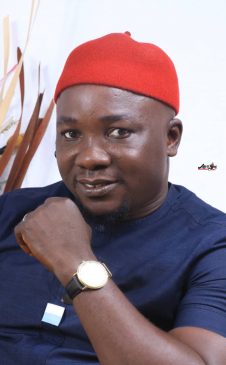 The Imo State Police command on Saturday September 16,2022 quized the publisher of Nigeria Watchdog Newspaper over a report the media house published on the questionable manner with which the Ananmbra born Board of internal Revenue Chairman, Mr Ifeanyi Okeke runs the Imo State revenue agency known as Imo state Revenue service,IIRS.
Comrade Nwadike who was early last week served an invitation letter dated 15th September 2022 with caption, "police investigation:RE:Invitation", visited the Crime control Unit of Imo state police command on Friday, September 17.This he did as a law abiding citizen of Imo,unknown to him that the government agent had planned to detain him till the this week.It took the intervention of Imo journalists who got wind of the development and rushed to the Police command to ensure bail for Nwadke.
It was gathered that after meeting with the Investigating Police officer,IPO to inquire on why he was invited,he was presented a petition written by a pro-Imo government group which operates by the name,"Imo Coalition for Justice, peace and good governance,among other things accused Comrade Nwadike of sedition arising from, operating unregistered Newspaper, impersonating as a journalist.
The petition also claims that Nigeria watchdog Newspaper published a report that some persons were killed in Orsu and Awo-Ommama with a bold headline,"Blood flows again in Orsu as military carry out operation" which constitutes sedition.
The group also stated that Nwadike falsely accused Imo government of imposing double taxation on Imo people by publishing a story with caption ,"Imo Business owners weep over double taxation",adding that the two stories brought hatred and public opprobrium to the government as such Nwadike should be charged for seditious publication.
After Nwadike responded to the issues raised by the petitioners, the IPO ordered for detention of Nwadike who was later released on the instruction of the Commander of the Unit who requested that the Human rights Activist be released and be given another day to bring evidence that the Newspaper is registered both with the National Libary and Corporate affairs commission.
Speaking with Comrade Precious Nwadike after he left the police command , he said "the onslaught has been on for sometime".
He narrated how the Imo state Board of Internal revenue threatened to shut down the newspaper office within 7 days if it fails to pay #1.3million as tax for a period the newspaper was not operational as such it was not a surprise that they went to police to get him arrested almost the same time.
Nwadike raised alarm on plot to possibly assassinate some of his staff who now on daily basis receive threatening calls.Aside calls, the Board of internal revenue also sends unknown persons to the office.On one of the occasions, the Newspaper accused a female staff of the agency of attempting to plant dangerous weapon in Nigeria Watchdog office which they never denied till date.
NIGERIA NEWSPOINT