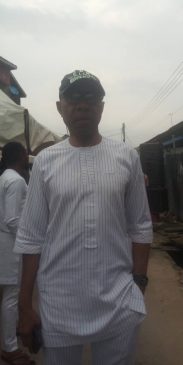 By Williams Odunze
The APC candidate for Owerri Federal Constituency in the House of Representatives comes 2023 election,Chijioke Williams has reassured Owerri people of his determination to effectively represent them if he is giving the mandate
He made the assurance  when speaking with journalists in Owerri on Wednesday. He said he has the leadership and political experience, acumen, capacity and will power to advance good living for the people of Owerri Federal Constituency if he goes to the House of Representatives in 2023, saying when the people have good road, good market environments, working electricity, accessibly quality healthcare delivery, healthy environment, feed well, have social comfort, they will always be happy and cordially bond with one another to move forward.
Chijioke noted that his motivation to represent the people of Owerri Federal Constituency in the National Assembly "is the spirit to serve my people. It is a genuine one in the sense that I have been involved in community development in Owerri Federal Constituency. I have been involved in all the socio-cultural developments in the area. I was the foundation member of Dozie- Mezie Owerri Solidarity Club, I belong to the age grade. I have been in Eze's Council, I have been in social fabrics of our people and I served as the first Mayor of Owerri before I was made the Supervisory Councillor for Health in the entire Owerri LGA which is now Owerri Federal Constituency. So, I know the nooks and crannies and the needs of our people. I know the problems of our youths as regards unemployment, I know what our elders suffer too because I'm fully involved in seeking for the collective good of Owerri enclave and we shall get it".
He added that when he was  in the council he "made sure that the problems of our people reduced because our people in the municipal area which is my constituency at that time have been deprived of many things. The problems of urbanization and the making of Owerri as state capital denied our people a lot of things. We do not have farms any more. We cannot go to farm and get things, our women cannot go to farm because these farm lands have been converted to housing estates and roads. So, I made a Bye- Law in the municipal to exempt our people from paying property rent in the municipal area – it is a way of reducing the pressure for my people".
Affirming that if elected he would do everything humanly possible to meet the needs of the people of Owerri Federal Constituency, the APC candidate reiterated that he demonstrated good leadership when he was the Chairman of Owerri Municipal Council, saying he will reciprocate such in the entire Owerri Federal Constituency because he already knows the problems of the people.
Also, he promised to provide employment for youths, empower women on trade and other meaningful activities to enable them to be economically independent, as well as arrest poor hygiene. "How many health centers do we have? Are they functioning? A situation where somebody from Owerri Federal Constituency cannot on his or her own treat malaria is bad. It is bad that our people cannot afford a single drugs under N500 or N1000 to cure malaria".
"So, when you get the health centers functioning with all the drugs available and proper healthcare delivery is in place the better for our people. On environmental health issues, refuse disposal will be looked at critically because good health promotes wealth. My message to Owerri people is let them vote individuals who can deliver, not party. I got the experience, capacity and the will power to do the work effectively and fairly too with a view to bringing development joy and social security to the area".
NIGERIA NEWSPOINT