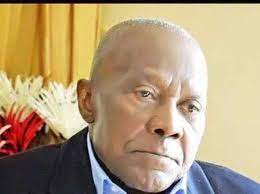 By Batos Nwadike
Arthur Francis Nzeribe has come, seen and conquered. I met Arthur Nzeribe in 1987 at Oguta in his one story building country home on a street near the river that has a bridge that takes one to his present day Haven of Peace and Agwa ancient community( i was in that journey with Chief Joseph Agbahiwe) erstwhile chairman of all chairman of SDP in the Old Imo state. I was a teacher and youth leader and nursing the ambition to run as chairman of Nkwerre/ Isu LG anytime the military lifted the ban on politics. I was round about 26yrs then.
That was the beginning of the formation of what came to be known as Progress, Welfare, Farmers Club( PWFC) an organization Nzeribe used to bring politicians together during the military era in Eastern Nigeria.  The late Chief P.C Onuoha and late Barr. Mbamaonyeukwu Ahanaeku( Oyibo Nwaneri's dad) were state coordinators. By 1989, the PWFC had moved to launch CARIA( Cross River, Anambra, Rivers, Imo and Akwa Ibom organization). Francis Arthur Nzeribe was the leader and also life wire of his Arthur Nzeribe Foundation at the same time. People from the above states bi- monthly converged at Oguta with goodwill messages from others from outside CARIA such as Ebenezer Babatope( former Organizing Secretary of the UPN) and Rev. Moses Adasu from Benue who later became Governor of Benue State. By 1990, Arthur Nzeribe had finished building his magnificent Haven of Peace( Mkpu Udo) residence and moved in.
Then the stage was set for real politics with the return of the guided two party system of the General Ibrahim Babangida era. Before then, through 1988 and 1989, Arthur had vacillated with his group from Peoples Solidarity Party( PSP) of late Engr. Ezekiel Izuogu to the Peoples Front of Nigeria( PFN) of late General Shehu Must Yar' Adua to coalesce finally in the Social Democratic Party( SDP). It was in this two Party system of the Babangida times that the big man sought to run as President of Nigeria in 1992.
By the Oct. 1983 general election, the man was elected Senator representing Orlu zone in the Senate of the Federal Republic of Nigeria. He was never a seat warmer. He made waves in the Senate then with his many controversial motions. When  on 31st December 1983 the military struck and abridged the government of President Shehu Shagari, Nzeribe was arrested amongst other politicians of yore but no sooner he was released by the junta, he proceeded into self exile in the United Kingdom and only surfaced in Nigeria with the formation of the CARIA States Movement. My elder brother Dr. William Wilberforce Chuba Okadigbo told me that he wrote that blueprint on CARIA in the UK. With the CARIA blueprint, Senator Nzeribe bestrode Eastern Nigeria politics like a colossus. He unified the place once again. Infact during one of his birthdays then, Ebenezar Babatope said that Arthur has done what earlier leaders could not do. With his Foundation, with his CARIA states movement, Arthur Nzeribe touched many lives and families. He dished out monies for person to contest elections in their states and constituencies and gave out numerous scholarships to many indegent students. When my son Barr Ozioma Victor Nwadike was called to Bar in 2013 in Abuja, Sen. Nzeribe hosted i and my family in the name of the new lawyer. He made some monetary donations to assist the new attorney/ solicitor to find his way in his career.
Nzeribe's father was a lawyer too.
He built palaces and bought automobiles for many traditional rulers. His name was a household name across Eastern Nigeria especially as he provided helicopter for the movement of Zik and Sam Mbakwe in the 1983 presidential elections. Nzeribe was an enigma. His campaign jingle" akwa o nu si m puta, a putalam. Ka m bido godi na senate" became a worship song and a general anthem of sorts. Many families and parents started to name their new babies 'Arthur' to identify the progress and showers of blessings which the enigma symbolised.
In the life of Senator Arthur Nzeribe all were not roses. In 1993, through the shadowy Association for Better Nigeria(ABN), the man called for the cancellation of the freeist and fairest Presidential election in Nigeria in which Bashorun MKO Abiola would have emerged President. He posited that Abiola did not take his Igbo people into reckoning in his Presidential quest by saying that "he can do without Igbos"
However that was true, is yet to be unravelled. Since the ugly days of ABN, Gen. Ibrahim Babangida, the main dramatis persona for the cancellation of the June 12 of 1993 presidential elections has apologised for his actions and inactions but Nzeribe insisted that if the situation reoccurs again, he will do the same thing. Today as the bell tolls, he may not have the opportunity to do the same again. Not a few Igbos  agree with Nzeribe in the action. Senator Nzeribes hey days and his ABN actions is a lesson for the present day gladiators in the Presidential race. All inclusiveness, equity, fairness, justice is the watchword. Once beaten twice shy!
Chief Arthur Nzeribe did not only leave indelible marks in his life time only in politics but he left elephantine steps in business and socials. In his hey days in business, Arthur Nzeribe was a legend and boastfully proclaimed that at a time he had 25 ways of making money. He did not keep those ways to himself alone from what this writer can glimpse. Many a young business moguls of today especially in the Eastern region borrowed business manoeuvres from Chief Nzeribe. Many families are happy and comfortable through his legendary international buisness apprenticeship schemes. He also had many business firms that people are working and benefitting from till date.
Nzeribe has like five children. I remember late Uzoma his first son. Senator Nzeribe was married to Princess Ogbuagu Nzeribe( nee Akinzua of the Benin Royal ancestry)
I will not fail to eulogies this great man of men, philanthropist, community leader, international business man, Prince of the Oguta royal ancestry, Ogbuagu, Oshiji, Damanze, Senator, Senator, Senator Francis Arthur Nzeribe.
Thank you for coming!
Dr. Batos Nwadike( Oyi of Igboland) is President General of Ozuruigbo and writes from Ozuruigbo leadership Centre Umueze Umuorlu-Isu in Nwangele LG, Imo State.