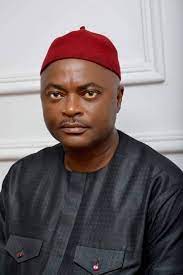 …Boasts: No One Can Stop Me
The Isu clan leaders have insisted that the zoning  arrangement in which the clans in Orlu Local Government area of Imo State agreed upon should be respected.
Some of the leaders who spoke with rage on condition of anonymity  berated the Orlu Lawmaker, Pascal Okolie  who they said has remained adamant over a consensus agreement of PDP leaders which is presently causing bad blood among party leaders.
Despite representations and dialogues  between the Orsu  and Isu clans leaders of People Democratic party in Orlu LGA on ensuring that Mr Pascal Okolie, does not severe cordial relationship that had existed between the two clans, the lawmaker is insisting on contesting against the zoning arrangement.
The leaders in a well attended meeting presided by Dr Vin Udogwu had resolved that the Orsu clan of Orlu LGA should respect the age-long zoning arrangement that even favoured Pascal Okolie in 2019 general election.Recall that in 2019,no Isu person contested PDP primary for House of Assembly.The Five of the aspirants, namely;Pascal Okolie, Augustine Okeke, OJO Okolie, Onapuru Dike, Barr Nwaele all hail from Orsu clan.
Hon Marcel Odunze who was at that time  the  lawmaker for Orlu state Assembly didn't recontest in adherence to the zoning arrangement.
After a meeting held in Imo, some leaders were mandated to reach out to Pascal Okolie to mandate him to drop his ambition since it is the turn of Isu clan to present a candidate.
Affort to reach Pascal Okolie to inform him of this development has been quite unsuccessful.He had earlier agreed on a date to meet with leaders but when told of the decision of elders of the party, he began to avoid them, saying that nobody born of a woman can stop him from re-contesting.
The LGA had in 1999  unanimously resolved in a written agreement that the positions of Member of Imo State  House Assembly and executive Chairman of shall rotate between the two clans.
This agreement has been followed religiously so much that nobody had gone two times.