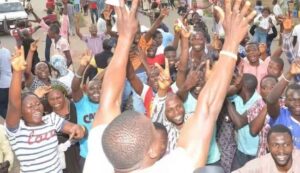 There was palpable jubilation in Owerre Nkwoji, Nkwerre LGA Wednesday as the immediate past Executive Chairman of Nkwerre Local Government, Barrister Augustine Agugua Mbagwu dumped the All Progressives Congress (APC) and defected to the People's Democratic Party (PDP).
Speaking during a well attended political meeting held at Ward 6 Owerre Nkwoji, Barr Mbagwu stated that after a thorough review of the political and economic situation within Nkwerre LGA and Imo State, he had come to the full realization that PDP is the only party with the best manifesto and leadership to deliver Nkwerre LGA and Imo State from the present quagmire it had been plunged into. He expressed his happiness that he was moving over to the PDP with the full complement of his Divine Favor political structure membership spread across the ten INEC electoral wards of Nkwerre LGA.
Barr Mbagwu further told the mammoth gathering of the PDP faithful that he was fully prepared before his declaration, to make the desired positive contribution to the electoral fortunes of PDP in Nkwerre LGA and Imo State in general, stressing that good football coaches do not joke with a top goal striker adding that he was moving over to the PDP with his victory mantra.
In his response, the Nkwerre LGA Chairman of PDP, Engr Victor Ginikanwa Achigbu said that Barr Mbagwu had taken a wise political decision to dump the APC and defect to the People's Democratic Party which he said is a moving train that God has ordained to take the people to the land of promise where the citizenry would again feel the positive dividends of good governance pointing out that by the declaration in his ward, Barr Mbagwu has complied with the extant requirements and therefore has been accepted into the PDP fold with all the full benefits, rights and privileges reserved for members of their party.
The PDP Nkwerre LGA Chairman, Engr Achigbu directed the PDP Ward 6 Chairman, Hon Ekene Amaefule to issue Barr Mbagwu with the PDP membership card instantly and also absorb his teeming followers and grant them equal membership status.
The declaration ceremony was attended by many executive officers and stakeholders of PDP who in turns spoke eloquently in expression of their excitement on the declaration of Barr Mbagwu for the PDP. Nigeria Newspoint gathered that Barr Mbagwu is a vibrant legal practitioner and a grassroots political mobilizer. He started politics as APC Nkwerre LGA ward 6 Chairman and rose to become the Chairman of all the APC Chairmen (COC) in Orlu zone and Imo State.
He contested and won the Executive Chairmanship of Nkwerre Local Government in 2018 and subsequently became the Imo State Chairman of the Association of Local Government of Nigeria (ALGON) and also held the position of national publicity secretary of the association at the ALGON headquarters in Abuja.