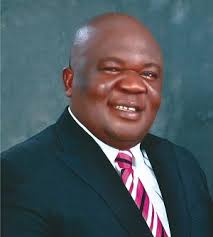 Arthur Egwim
The members representing Isu state constituency in the Imo State House of Assembly, Hon Ngozi Obiefule has debunked a publication by an Owerri based Newspaper (not Nigeria Newspoint), alleging that she had raised an alarm over the purported missing of the member, representing Ideato North in the state legislature, Hon. Arthur Egwim and also attributing the disappearance of Egwim to suspension by House leadership and masterminding all suspensions.
Hon Obiefule who addressed newsmen in Owerri on Tuesday, March 22, stressed that she had been shocked at the publication having never granted any interview to the said Newspaper or any other as regards any issue on Hon. Egwim or related matters.
The Isu LGA legislator accused the Deputy Speaker, Hon Amara Iwuanyanwu of being behind the "treacherous" publication, noting that the Deputy speaker had become "notorious for being a blackmail merchant", aiming to cause bad blood between the government of the day and his perceived enemies.
Hon.Obiefule maintained that Hon Iwuanyanwu who represents Nwangele state constituency had been seeing her as an enemy with the accusation that she was among those who signed her impeachment letter when he was earlier removed from office as deputy speaker.
Hon Obiefule stated that Hon Iwuanyanwu's blackmail against her was to put her at odds with the House leadership, especially now that she was due to be recalled from suspension.
However, the lawmaker demanded that the alleged blackmail against her by the "offending" Newspaper be retracted immediately or she would take legal action against the media organization, adding that balanced journalism demands that she should have been contacted by the media organization if such a thing had actually happened in the story.
She lamented that she was never given a chance to defend herself against such a hatchet job by blackmailers who are intent on frustrating her out of APC which she helped found.
Obiefule concluded by insisting that she never granted any interview to any Newspaper on anything pertaining to Hon Arthur Egwim.