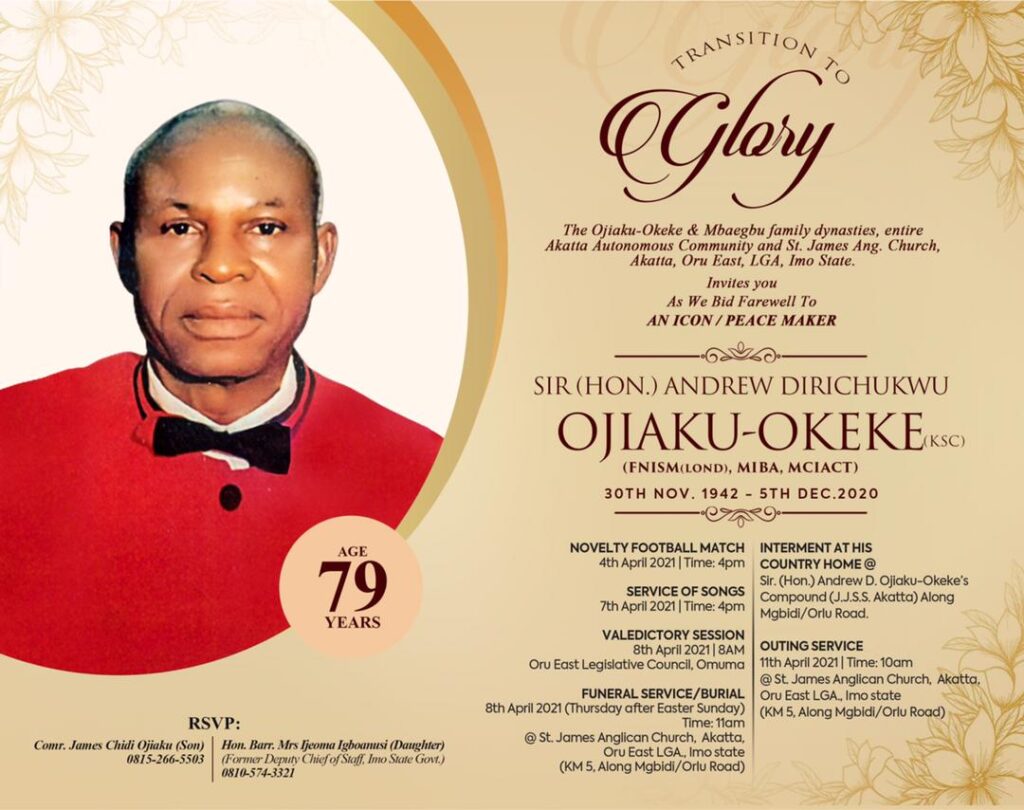 The remains of Sir Andrew DiriChukwu Ojiaku Okeke has been committed to the mother earth at his country home,Akatta in Oru East LGA,Imo State.
The burial took place after a funeral church service at Saint James Anglican Church, Akatta in Oru East.
Paying the last respect to her father , Mrs Ijeoma Igboanusi, a former Deputy Chief of staff, described her father as a very fair minded man who embraced every one equally, never missing any opportunity to look out for any of his children."Dad loved , celebrated mum and exposed her to the best life any woman would wish for being a present.
He was a protective and powerful husband before he lost her.He distinctly had no expectation from any one and he gave liberally to God and humanity.
The ex- Orlu LGA chairman also stated that she will use this time of mourning to eulogize her father who even in death remained the finest of all.
Mrs Igboanusi further explained that there is no amount of tribute that will be able to qualify her father's services to humanity ,mostly the downtrodden.
"Only a published Biography and tangible effort at perpetuating your memory would assuage my hunger to honour you as you truly deserve",she noted.
In a Biography titled,"The Trend Setter From The East", written by Jachimike Adiele, described late Sir Andrew as a servant to the people".It also stated that there was no atom of egocentrism in his life,adding that he built for all and tried his best to eliminate political discord and geographical disputes, mental slavery and financial enslavement".
The burial was attended by many dignitaries and people from all walks of life.Others at the burial included Ugwumba Uche Nwosu, Chief of Staff to former Governor of Imo state,Sen.Rochas Anayo Okorocha.present also were other ex-commissioners and ex-LGA chairmen in the then Rescue Mission government of Gov. Okorocha.