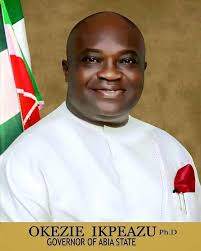 The Medical Director of the Federal Medical Center Umuahia, Dr. Azubuike Kanario Onyebuchi is now a full Professor of Obstetrics and Gynecology.
This award came from Alex Ekwueme University, Ndufu Alike, Ebonyi State.
In his congratulatory message to. Prof. Onyebuchi, the Abia State Gov. Okezie Ikpeazu said "this elevation is a clear testimony of the hardwork, professionalism and commitment to excellence in learning and practice by the Medical Director".
According to Onyebuchi Ememanka, the Chief Press Secretary to the Governor in a press release, Ikpeazu noted that under the watch of now Professor Onyebuchi, the Federal Medical Center Umuahia has witnessed massive improvement in service delivery leading to the selection of the hospital to host the ultra modern diagnostic center built by the Sovereign Wealth Fund.
Ikpeazu expressed his opinion that this elevation will serve as a tonic for greater commitment to the ideals of excellence on the part of Professor Onyebuchi.
Professor Azubuike Onyebuchi holds a Bachelor of Medicine, Bachelor of Surgery Degree of the University of Nigeria, a Masters Degree in Health Administration, Economics and Policy, also of the University of Nigeria. He is a Fellow of the West African College of Surgeons and also a Fellow of International College of Surgeons.
A Knight of John Wesley of the Methodist Church, Professor Onyebuchi is the Lay President of the Methodist Diocese of Abakaliki, Ebonyi State.