Leader of the Coalition of Societies for the Rights of Older Persons in Nigeria, COSROPIN, Senator Eze Ajoku has attributed the successful passage of the bill seeking to put in place a legal framework for the protection of rights and privileges of old persons, to Senator Ezenwa Francis Onyewuchi.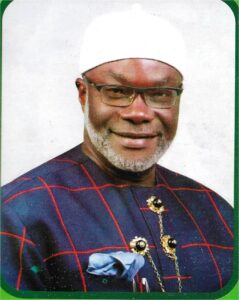 According to Senator Ajoku, who reacted to the development in a chat with newsmen, recently, Senator Onyewuchi's untiring efforts, hard work  and absolute commitment  to the cause of the aged in the country, largely contributed to making the passage a reality.
Recall that the Nigeria Senate early this week passed the Older Persons Rights and Privileges Bill which was sponsored by Senator Onyewuch who i represents Imo East Senatorial District, otherwise known as Owerri Zone.
Senator Ajoku a former senator who represented Imo East Senatorial District in the Red Chamber between 2005/ 2007, stressed that if the lawmaker had not taken it upon himself to rally  his colleagues to expedite action on the bill, it may not have scaled through by now.
Recalling how the journey to legitimize the rights and privileges of the aged started Senator Ajoku said the group initially kick started advocacy for the bill during the 8th Senate, pointing out that all their  efforts back then did not see the light of the day because the Senate did not give their campaign commensurate attention.
However, the seeming gloomy picture he posited further quickly took on a promising outlook immediately the present senate was inaugurated, as Senator Onyewuchi without thinking twice wholeheartedly accepted to spearhead the advocacy campaign and also sponsor a bill to address the issues involved.
He noted that the lawmaker quickly matched his words with action by going ahead to table the bill on the floor of the senate and doing other necessary things required to make the bill scale all legislative processes necessary for its final passage.
Senator Ajoku added that the successful passage of the bill has clearly demonstrated that the lawmaker and his colleagues are promises sensitive, as well as responsive representatives ready at all times to work to protect, promote  and guarantee the welfare, well being and happiness of those who voted them into office.
He announced that the coalition and millions of old persons who will reap the benefits of the achievement are grateful and appreciative of the time, energy and even resources expended by the senate in the process of the patriotic duty  to give the aged and aging hope for a better tomorrow as it is obtained in civilized nations.
Commenting on the many envisaged benefits of the bill, he disclosed that once assented to it would mark a new dawn for the nations aging population because it will holistically and comprehensively address the problem of  stigmatization and discrimination associated with old age.