There is anger in Federal Polytechnic, Nekede, Owerri, as a caretaker whose name had not been ascertained allegedly killed a year one student of the institution, Anthony Chinweotito.
The incident which reportedly happened at Ezinwanne lodge at the school back gate has generated tension in the area.
The students out of anger went on rampage to destroy windows and doors of the hostel.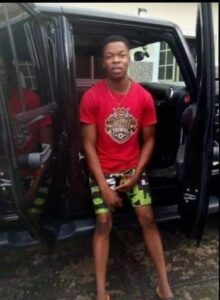 Our Correspondent gathered that the caretaker who is now on the run had engaged in a heated argument with undergraduates who were occupants of the loged over house rent.
While the students argued that concession should be given to them hence they did not enjoy the house rents they paid last year owing to the several months of lockdown which affected academic activities, the caretaker insisted that the occupants must pay new fees in full.
When the argument got heated, the caretaker disconnected the tap that provided water to all the rooms in the building and left.
A source told our correspondent that the students reconnected the water channel which provoked the caretaker upon return.
The source said " the caretaker got angry when he returned and noticed that the students had reconnected the water channel. He inquired and the students owned up and told him that it was impossible to stay in the house without water.
" Argument ensured and before one knew what was happening caretaker used a sharp object and heat one of the students on the head and the boy fell down. Not satisfied, he picked up a stick and hit the boy severally while he was still laying on the ground.
" The boy lost consciousness while the caretaker fled. The students rallied round and the school ambulance was provided and he was rushed to a nearby local hospital but he was rejected.
He was later rushed to Federal Medical Centre Owerri, where he was admitted.
He was in coma from Tuesday when the incident happened til Saturday when he died.
Our Correspondent learnt that the deceased a native of Abia state was born in 2001. He was a National Diploma year one student of Building Technology Department.
Police Spokesperson in the state, Orlando Ikeokwu, who confirmed the incident said that investigation into murder incident has commenced .
The Public Relations Officer of the polytechnic, Evaris Nwosu said that the management would take a decision on Monday.
He said " though the incident happened on Tuesday but the student died on Saturday which was a non working day. Definitely, the management would take a decision on this Monday and we will make that known to the public.
" But is important to state that before the incident there had been a management and landlords meeting where the welfare of the students in regards to the house rent was discussed. You know that lockdown affected academic activities last year and here students pay house rents according to the academic year not the normal year circle."he further stressed.