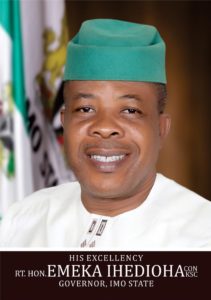 With opposition to the stewardship of Governor Emeka Ihedioha of Imo State gaining impetus and verve, it becomes important to analyze the post-election politics which the Mbutu-born former lawmaker has grappled with since he was elected governor and the implications of same on his political survival and Imo's political stability.
Essentially, three factors brought Ihedioha to power among which one stands out over and above the other two. The first was his relative credibility. In the assessment of the Imo electorate, Ihedioha was more credible than the other frontline governorship contenders.
The second was the determination of Imo people across every social stratum to obliterate everything Okorocha from Imo State. And Ihedioha was unarguably the only candidate that was believed to embody a clear departure from Okorocha and the genuine drive to bring him to book.
The third was the well canvassed need for an Imo governor of Owerri extraction. All of these, but most importantly his perceived credibility, conjointly gave Ihedioha victory at the polls.
However, it was never an easy walk, neither was it a smooth sail. A lot of intervening variables came into being which needed very virile coalitions to deal with. It was the expectation that the pattern of Ihedioha's government and composition of the functionaries thereof should mirror those political realities that brought the government to power. But, to a large extent, this expectation seems to have been marginalized.
Given that credibility was the most robust plank upon which Ihedioha's choice over the other top contenders was rationalized, how has it happened that the foremost advocates of credible governance in Imo who have been tried and tested by time and circumstances could not make it into Ihedioha's government? Worse still, how come some key individuals who sacrificed personal comfort and blatantly turned down every form of financial inducement in order to fight for the victory of Ihedioha have never been sighted anywhere around Douglas House since he assumed office?
Two weeks before the 2019 governorship election something very instructive happened at CATOL. A group known as Imo Elders Advisory Council led by Chief Ralph Obioha decided to screen six top governorship candidates. During the screening of one of them, he boldly said, "I sincerely apologize to the people of Ngor Okpala and indeed ndi Imo for allowing Emeka Ihedioha go to the Federal House for the third time." The Council later adopted this particular candidate. It took the bravery of the likes of Prof. Francis Dike (SAN) to contain this group by adopting Ihedioha using their group known as Imo Elders Council. But today, Prof. Dike has never been seen in Douglas House but the former candidate who publicly disparaged has gotten at least three appointments from the government and literally sleeps with Douglas House.
Again, the most formidable assemblage of Imo people for the 2019 elections was the Amalgamation of Imo Professional Associations (AIPA) which was made up of Olu Owerri, Association of Imo Indigenous Town Unions, NANS, NBA, NMA, Orluzurumee, Olu Okigwe and many other groups. This this Amalgamation vehemently fought Okorocha, resisted every overtures by politicians, turned down unbelievable millions of Naira and endorsed Ihedioha squarely on the strength of his credibility. But today, there is no single appointment of the government that has come from this coalescence of Imo civil society groups. The government, worse still, has not found them relevant enough to be carried along on policy matters as stakeholders in the Imo project. If credibility was what brought Ihedioha to power and now he shuns the credible people that worked for him only to work with career politicians, what result is he expecting to get?
The fact is that most party people that today claim to have delivered Ihedioha at the polls never did anything for him. Some other were nocturnally dining with Ihedioha's opponents, and some others were sitting on the fence. Very many of them never even saw the possibility of his victory, and so they had pocketed the little money they had gotten for logistics and went home to sleep on Election Day. The victory of Ihedioha could, therefore, be traced to other factors outside of his party. One of such factors was the overwhelming solidarity of the civil society groups.
One thing Governor Ihedioha must realize is that his government has not been very stable not really because of the court cases but specifically because he had chosen his cabinet by proxy, principally through godfathers, who ended nominating their stooges who have no understanding of the circumstances that called up the government in the first place and the mission it came to fulfill.
Why are the likes of Chief Emeka Diwe not seen in Ihedioha's? To be clear, one of the greatest undoings of Okorocha was his war against people of integrity, a battle that weakened the support base of Okorocha right in his own Ideato and turned the entire Town Unions against him. Even if Diwe might have overgrown government appointment, there is a sense of integrity which his presence around the government will infuse the government with.
How many people from the Imo Amalgamation has Ihedioha appointed? It is important to note that when Ihedioha's kinsmen, Ezuruezu Mbaise, were conferring chieftaincy titles on Okorocha's in-law, Uche Nwosu, the Amalgamation had already drawn a battle line against the governorship bid of Uche Nwosu. But today, the Amalgamation is nowhere to be found. A stitch in time saves nine.