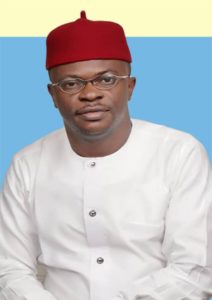 The governorship candidate of Action Alliance, AA in Imo State, Sir Leonard Uzoma Okolienta has maintained that moves by Ugwumba Uche Nwosu to take away the Party's gubernatorial ticket from him cannot work.
Sir Okolienta made this ascertion to newsman weekend at the Sam Mbakwe International Cargo Airport Owerri when he arrived from Abuja, the nation's capital.
Describing the move by the Ex-Chief of Staff to Governor Okorocha as effort in futility, he insisted that with the whole money in the world, he cannot trade the mandate freely handed to him by party delegates at the primary.
The London trained financial expert avowed that he is the best man to govern Imo at this challenging time, adding that the happiness and wellbeing of Imo people is worth more than any amount of money.
"I have heard it that there are moves by some people in government circle to monetize the mandate our party gave me to lead them into the 2019 governorship election in Imo State, let me state here and now that such moves will fail like a pack of cards, it will not see the light of the day, our Imo needs the best hand at this time and I represent that best.
Look at the array of people wanting to govern us, they have nothing to offer and so, persons with the ideas to take Imo to the zenith like me will no more sit idly and watch things go from bad to worse. I have encapsulated programs that will address the void in the state. I want posterity to write my name in gold. My quest is not for the perks in the office of the governor of a state but for diligent service to my people; this passion is more than material wealth and I am sure Ndi-Imo will bring me on board in 2019 for a far reaching rewarding future of our state." he enthused.
Sir Okolienta also called on party members and his numerous supporters across the state to remain calm and also consider any struggle to wrestle the ticket away from him as a fight against God and Imo People and that God who is the most powerful cannot watch a mere mortal defeat Him in a battlefield.
Nigeria Newspoint gathered that Okolienta has vowed that he will defend the ticket giving to him during the party primary.
He insisted that INEC has no legal right to substitute his name from the list of those candidates that will run for the office of the governor in the state.
Meanwhile, he has stated that he will not be cowed by the alleged threats coming from the National chairman, Hon. Kenneth Obinna Udeze who wants to align with the governor's son-in-law to deny him the party ticket.
Nigeria Newspoint further gathered that Okolienta and his legal team have already filed a suit against the national umpire, INEC, Ugwumba Nwosu and AA National leadership.