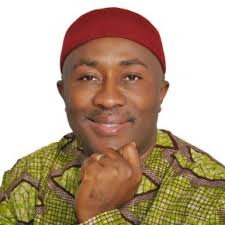 One of the leading governorship aspirants on the platform of the All Progressive Grand Alliance APGA, in Imo State, Hon. Uche Onyeagucha has debunked the rumour making the rounds in the social media that his purchase of 305 motorcycles for all APGA ward chairmen across the 27 local government areas of the state was being sponsored by the State Governor Owelle Rochas Okorocha.
Onyeagucha who reacted to the rumour through a press release signed by his Chief Press Secretary, Mr. MacDonald Enwere describes the rumour as the grand design of disgruntled and mischievous politicians who were on a sponsored mission to blackmail him.
He expressed wonder on how Gov. Okorocha who could not buy motorcycles for ward chairmen of his part since more than seven years he has been in power could sponsor him in buying 305 motorcycles for the APGA ward chairmen in the state, describing such rumour as ridiculous.
The APGA governorship aspirant notes that no reasonable person in the state can allow himself to be linked with Okorocha whose intransigence and moral baggage will continue to spell doom for anyone who associates with him.
He points out that the governor's name is and will continue to be a bad news for the ear and a cancerous tumour which needs to be operated on.
Hon. Onyeagucha therefore called on all the APGA ward chairmen to ensure that the motorcycles were in good use and commended his fellow governorship aspirants, while advising them to always be civil in their comments, especially, with regard to their opponents in the party.
It will be recalled that Hon. Onyeagucha met with members of the APGA state working committee at their Egbu Road Secretariat last Tuesday, to thank them for their support during his just concluded sensitization tour across the 27 LGAs of the state.
He therefore expresses his profound gratitude to the state chairman, Barr. Peter Ezeobi and members of his expanded executive council for their unalloyed support and encouragement, reiterating that APGA will take over Imo State Douglas House in 2019 elections.