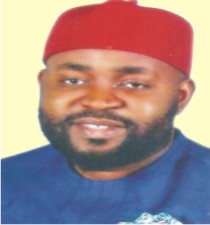 As the race for Ideato North House of Assembly seat, Imo State gathers momentum, a businessman and politician, Hon. Obiora Umeh has formally declared to run on the platform of the All Progressives Grand Alliance, APGA.
Hon. Umeh popularly known s Nkwachikwere Ideato, while addressing ward and local government executives of APGA in Ideato  North state constituency during his declaration at Urualla on Tuesday, said he has answered the clarion call by well meaning Ideato sons and daughters to contest for the assembly seat of Ideato North in 2019.
Umeh noted that youths occupy various elective offices in many other parts of Nigeria saying that it is possible to replicate same in the state. The youthful politician made it clear that he joined APGA to win the election and urged party faithful not to make mistake but give the ticket to somebody who has contacts, capacity and acceptability across board.
Continuing, he disclosed that he was in the race not necessarily for what to get, but to end  what he  called poor representation of Ideato North so as to attract real dividends of democracy for the good people of Ideato North. Umeh shed tears over what he discribed as underdevelopment, unemployment and insecurity in the area while vowing to re-write the history of Ideato North state constituency if given the opportunity in 2019.
He assured party faithful that he would massively empower people including women and youth adding that when youths are empowered and engaged, they would less likely involve themselves in crime.
Speaking also, the Director General of Hon Obiora Umeh campaign organization, Barrister Oluchukwu Nwachukwu who described Umeh as the answer to what he called the numerous problems of Ideato North, disclosed that he decided to step down his own ambition for Umeh whom he said has everything needed to give APGA victory. Barrister Nwachukeu expressed confidence that Umeh would carry Ideato North constituents along if given the mandate while frowning at a situation where lawmakers elected by the people abandon their constituents as soon as they get their mandate.
The DG assured APGA faithful in Ideato North that Hon. Obiora would right the wrongs of the past, noting that nothing was happening in Ideato North at the moment. Nwachukwu reiterated his belief that with Hon. Obiora's dedication and honesty, things would change for the better in the constituency.
APGA LGA chairman in Ideato North, Mr. Peter Ezenwa assured all aspirants at party of a free and fair primary elections in Ideato North as according to him, the party would only field their first election.
Menwhile Hon. Obiora Umeh who is running to fly APGA ticket for Ideato state assembly seat has made it clear that both APC and PDP have failed its people and cannot win Imo. He said APGA has ideology to win Imo and replicate the success story of Anambra in the state. He revealed that his Nkwachikwere Foundation was established to assist people and provide sustainable livliehood for his people. He also said that he was confident of victory as according to him, he has not failed in life before.