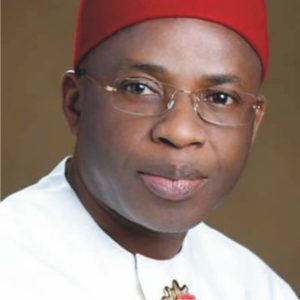 The Nigerian Legion Imo State Command on Tuesday paid a courtesy call on their Patron, Dr. Ikedi Ohakim, after his declaration for the 2019 governorship election on Friday, July 27, 2018.
Ohakim was decorated a Patron of the Legion in 2007, while he was Governor and decorated a Colonel.
Speaking during the courtesy call, the Chairman of the Nigerian Legion Imo State Command, Chief (Col) Uzoechina, said they came to identify with their Patron and to assure him of their prayers, noting that they will be happy to have him back as Governor in 2019.
The Legion noted that they had good time when Ohakim was Governor as their monthly subvention was regularly released to them. They lamented that their condition has not been the same again since Ohakim left office in 2011 as they have not received their subvention for more than seven years.
They assured Ohakim that they will continue to pray for him.
Responding, Ohakim thanked the Legion for their prayers, assuring them that God will answer their prayers.
He informed them that his late father was a world war veteran and a member of the Nigerian Legion, and coming from such family he could not but realise the importance of the Legion. He said that it was in keeping with that tradition that he made sure that the Legion was well taken care of as their subvention was regularly released to them.
He further assured that he will ensure that they get their subvention when he becomes Governor again, adding that he will ensure that they also get free medicare.
He challenged the Legion not to waver but remain strong despite the challenges they face.