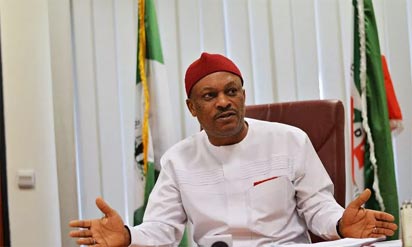 By Sunday Ihedinma Onyeoma
The National Secretary of the People's Democratic party PDP has in numerous ways developed the Mbaise nation during his tenure as a senator.
Senator Samuel Nnaemeka Anyanwu, popularly know as SAMDADDY during his tenure as a senator that represented Imo East, otherwise known as (Owerri Zone) at the Senate did his best to site projects for the development of mbaise nation. Some of the sustainable projects include but not limited to:
1. Construction of a solar power borehole at timber building material market,  Afor Oru.
2. Construction of Eke Nguru Orie Ihitte Road.
3. Installation of transformer at Obohia Ekwerazu.
4. Renovation of community primary school, Ogbe, Nneishi Ahiara.
5. Provision of cold room facility at Afor Ogbe.
6. Construction and fencing with gate of St Patrick's primary School, Umuokirika, Ekwerazu.
7. Completion of Nnarambia Farmer's Cooperative Town Hall, Ahiara Mbaise.
8. Construction of a block of 2 classroom with office and store at Town School umuedo Obohia, Ekwereazu, in Ahiazu Mbaise.
9. Construction of water borehole at Nnemere Mpam Ahiazu Mbaise
10. Provision of cool room facility at Afor-Ajala Nguru, Aboh Mbaise.
11. Renovation of Oke Uvuru Secondary School, Uvuru About Mbaise.
12. Design/construction of 10km Ihitte to Orie Onuoha Road, Onicha, Ezinihitte Mbaise.
13. Construction of Motorized borehole at Nkwo Mbaise Market Square, Ezinihitte Mbaise.  E T C.
All these mouthwatering projects are only for Mbaise nation including others too numerous to mention except on popular demand.
The Bible says that when a righteous is on the throne, the people rejoice! This is applicable to the good works SAMDADDY did Mbaise Nation.
Such good leadership is rare to find at this present time, and we pray for a better leadership in owerri zone who will do marvelously well Like Senator Samuel Nnaemeka Anyanwu, "onye na Uzo".