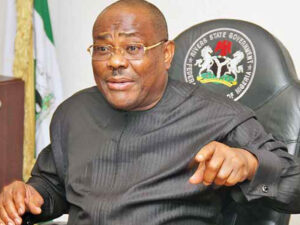 By Onyinyechi Nwankwo
Governor of Rivers State, Nyesom Wike, has urged the People's Democratic Party (PDP) to give him its presidential ticket if the party truly wants to defeat the All Progressive Congress,APC, in the race, saying he is the only person who has the political capacity and moral strength to defeat the APC in the 2023 general election.
Wike said this yesterday when he addressed Imo PDP members at the party's state Secretariat in Owerri .
Urging the party to discard the recycling of old presidential candidates who he said could not win election to deliver the party, Wike said if he is voted for by the party to fly its flag he would win the presidential election to transform and better the lot and mess of citizens who are languishing in abject poverty, insecurity given to the bad rule of the ruling APC.
"What PDP should be talking about now is how to win the presidential election in 2023. What is important is result and victory. I'm the only person who can defeat APC in the presidential race. I'm fully prepared for the contest. APC is afraid of me hence my antecedents that qualify me to be president. I'm fully a PDP member and in good or bad I have been in PDP. Practically speaking, if I get the PDP ticket I will win the presidential election", Wike maintained.
While urging the PDP to see him as the most qualified contestant for the presidency and give him the presidential ticket, Wike advised the party never to "give presidential ticket to anyone who will win the presidential election and defect to APC or run away from the PDP".
Wike faulted the APC led federal government administration for its inability to defeat insecurity in the country, as well as empowering the entire country men and women. We do not spend money on security intelligence which is key for tight security, they only act when something happens".
Recounting that he has transformed Rivers State through effective leadership, quality projects including meeting the needs and welfare of the people of Rivers State, Wike urged the Imo PDP to work as a team to be able to win Imo governorship poll. "Imo should be serious to win guber election as well as work for me".