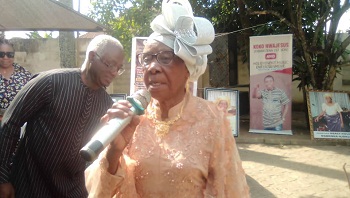 In appreciation to God, Senator Darlington Eze Ajoku, has celebrated his mother, Ezinne Lolo Mercy Nwuhie Ogbonna-Ajoku who turned 104 years-old recently in a well attended birthday celebration.
Speaking during the yearly birthday celebration which took place at his country home at Amaeze, Obibiezena in Owerri North LGA, Imo State, Sen. Ajoku, noted that the event which is marked every December 26, was in partnership with Coalition of Societies for the Rights of Older Persons in Nigeria, COSROPIN and Graceful Ageing Fellowship ,GRAF to celebrate older persons between the ages of 70 and above.
The ex-Senator for Owerri Zone, opined  that old age is a blessing and that people should pray to get old, especially as he said  it is the desire of God for mankind.
Sen. Ajoku revealed that the birthday celebration and provision of free medical services to the older persons in the community started nine  years ag.
He explained that persons between the ages of 70 and above are  remembered, appreciated and encouraged  to continue to live healthy by maintaining their dietary instructions, stressing that it is an opportunity for the older persons to meet together and celebrate themselves.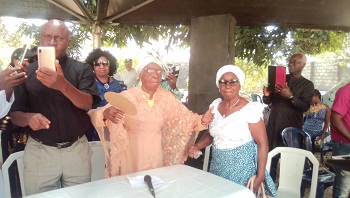 The former Senator hinted that anybody who does not take care of their parents especially at  old age does not appreciate the fact that, it was through the parents especially the Mother that they entered into this world. "The mother opens the door for our coming into this world", adding that people are what they are today because the mothers brought them into the world.
He urged children to take care of their parents while they're alive.
"Let your parents eat your wealth while alive and not when they die, you use big cars, that they never drove to bury them".
In ensuring that the Federal Government captures the older persons in her policies, Sen Eze Ajoku said the Non-governmental organization, COSROPIN has been able to make sure that there's National Senior Citizens Center.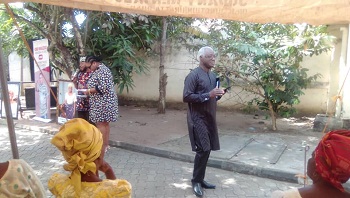 He said he urged the President of Nigeria, Mohammed Buhari to sign the Older Persons Rights and Privileges bill so that the older persons will be fully taken care of in Nigeria. He insisted that to be aged is a blessing, not a curse.
"My mother is a blessing to me. She is strong, healthy, very calculative and mentally alert. I am happy to have her and that's why I am celebrating her while she is alive, so that she will know how we love her while alive".
In her speech, the Centenarian, Ezinne Lolo Mercy Nwuhie Ogbonna-Ajoku said she was happy that she is being celebrated while alive. She urged older persons and community members to live a just life. "Don't harbour evil against anyone, don't accuse anyone falsely. Learn to live peacefully with your fellow human beings, stressing that when one does all these, when one calls on God, He will answer. She reeled out blessings upon all that attended.
Ezinne Lolo Mercy Nwuhie Ogbonna-Ajoku who is very strong in health, danced with other older persons in her birthday celebration to the admiration of all and sundry.
The highpoint of the event was the commissioning of Ezinne Lolo Mercy Nwuhie Ogbonna-Ajoku hall (upstairs) in her honour at St. Peter's Anglican Church, Obibiezena in Owerri North.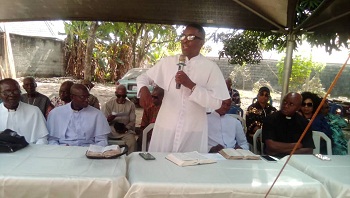 Sen. Eze Ajoku has continued to impact on his community with visible development ranging from building of halls, roads, hotels, sponsorship, among others.
He  revealed that he has been supporting the growth of the Local Government using his national and international contacts.
NIGERIA NEWSPOINT