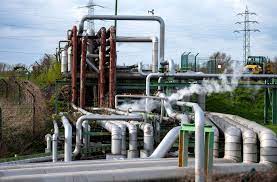 By Alex Nwahiri
More than two months into Russia's brutal war on Ukraine, the European Union today announced an  embargo on Russian fossil fuels , its biggest economic sacrifice yet to inflict pain on the Russian economy and Vladimir V Putin.
The measure unveiled by the President of the European Union, Ursula Von Der Leyen,  would ban Russian crude oil imports to nearly all of European Union in the next six months, and refined oil products by the end of the year.
The embargo contained in the sixth round of E .U. sanctions, is expected to win final approval from member countries within days.
The move is a landmark moment in the bloc's support of Ukraine, severing a long standing link to Russia and accepting a serious economic hardship for Europe, one which many EU countries had resisted.
Today agreement, like the growing supply of weapons to Ukraine, reflects the hardening of Western opposition to Mr Putin's reckless invasion of his neighbor, and a calculation that whatever price for Europe, the cost to Russia is greater.
The president of the European Union noted that it would not be easy but Europe needed to make the sacrifice to let Putin understand that the invasion of Ukraine is unacceptable.
Europe depends heavily on Russian fossil fuels, getting about 27 percent of its crude oil imports from Russia amounting to a daily usage of 3.5 million barrels per day.
Last year, the bloc spent more than 73 billion pounds on Russian fossil fuels alone.
The report further said that Hungary and Slovakia who are heavily dependent on Russian oil would be given up to December 2023 to ban Russian crude oil.
The two countries make up a small fraction of E. U.  Russian oil imports.
The European Union last month banned Russian coal,a fuel that was already getting phased out. But banning natural gas, which most E.U. countries rely on for heating and electricity, has been considered unrealistic  in the immediate future, but the bloc has laid out plans to gradually wean itself off it in the coming years.
Part of the new sanctions include prohibiting E.U. owned shipping companies from transporting Russian oil to destinations outside the bloc, and target the brokering and insurance firms, overwhemly based in the European Union and Britain, that help make that shipping possible.
This measure would deal a serious blow to Russia's oil exports  since most of Russian crude oil is carried by European- owned tankers.
The ban applies to all Russian oil traded via ports and pipelines.