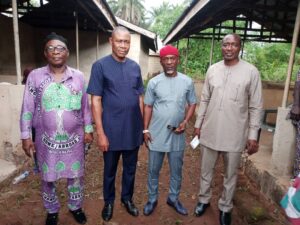 Newly elected President-General of Ndiokwu Federated Union, Elder Chidi Uneze, has vowed to rid the community of all points of sale of illicit drugs just as he stated that dealers in banned drugs and substances in the community would be reported to law enforcement agencies for prosecution.
Elder Chidi Uneze, who made the vow shortly after his election as President-General Ndiokwu Federated Union, Ndiokwu Lorji, Aboh Mbaise LGA of Imo State, said the leadership of the union would work with relevant government agencies to make Ndiokwu Lorji drug-free, and warned dealers and users of banned substances to desist from the illicit act or be prepared to face the law.
He said that clamping down on the points of sale would limit the use of such substances and reduce crime.
Speaking further on his acceptance speech, Elder Uneze promised to "serve to develop Ndiokwu Lorji" and assured the people that his leadership of the Town Union would "present quarterly financial accounts" as a measure of transparency.
Speaking, the immediate past President-General of the Union, Chief Livinus Obasi, charged the people to work to develop Ndiokwu Lorji through self-help efforts and urged the Union to "engage the formidable energy of the youths for the needed peace, security and progress".
The election which was conducted by the President-General of Lorji Development Association, Hon Steve Ezenwa Obasi, also produced the following officers: Mr Ezenwa Amadi,  Vice President-General; Dr Kenneth Otuonye, Secretary General; Mr Sunny Nwogu, Assistant Secretary General; Mr Eze Nwachukwu, Treasurer; and Mr Okwudiri Nwokedi, Financial Secretary. Others were Ben Uwakwe, Public Relations Officer; Mr Chinenye Unegbu, Provost 1; and Mr Iheanyi Onwere, Provost 11.
Ben Uwakwe
Public Relations Officer