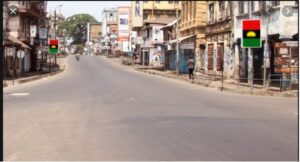 The Imo state capital, Owerri was a shadow of itself on Friday (weekend) as the trial of the leader of the Indigenous People of Biafra, IPOB, Nnamdi Kanu, continued at a Federal High Court in Abuja.
Banks, Schools, markets, offices, private and public institutions were closed in Owerri, Imo capital.
Investigation revealed that people stayed in indoors following the no movement order declared by IPOB few days back.
Besides the few security men seen mounting stop- and – search at Orji Flyover, the streets of Owerri was literally deserted.
Youths were seen playing football on a major road in Ikenegbu, one of the busiest areas of the state capital.
Alaba international market, Naze and Umuonyeali Wood markets were shut as people stayed at the roadside Pubs to ease off.
Apart from roadside food sellers seen at Okigwe Road, Tetlow, Spibat and Njemanze streets, the state capital witnessed huge economic loss on the day.
Kingsley, who lives at Orji said that staying at home was the right thing to do since the Federal Government had refused to release the IPOB leader.
He added," we are happy sitting at home. What Buhari is doing to Ndi Igbo is bad. We will continue to sit at home until Nnamdi Kanu is released. He has committed no crime. Is it because he is an Igbo man? We will continue to protest because the Igbo are being marginalized".