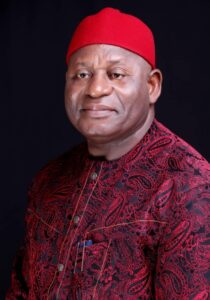 By Ebenezer Ojor
A front-line aspirant for the 2023 Owerri Zone senate seat, Chief Jerry Chukwueke has attributed the spate of Erosion menace in Mbaitoli area of Imo State to poor performance and lack of voice on the part of those representing the zone in the senate in Abuja.
Chief Chukwueke who took his on-going sensitization tour of Owerri Zone to Mbaitoli Local Government Area, Saturday, told the leaders and APC faithful at Orodo, that the time has come for a paradigm shift in the choice of who would go to Abuja on behalf of the zone.
Chief Chukwueke made it clear that the problems confronting the zone presently could only be tackled by those who have the capacity, the necessary experience and contacts to represent Owerri zone in the National Assembly.
He said as the founder and Chief Executive Office of Germaine Group and Chicken Republic, he would prioritize the issue of ecological challenges facing communities in Owerri zone and ensure that whatever that accrues to the Zone from Abuja would no longer be monetized and pocketed.
He revealed that he would replicate what he called, "Outgrowers Scheme" in Owerri zone to empower women and the people of the Zone in poultry farming maintaining that the scheme has recorded a huge success in Ogun where his free rangers farms first introduced it.
Speaking further, Chief Chukwueke reiterated his commitment to prioritizing the monthly training of 100 persons in the Zone in selected skills including ICT, Nursing and others in high demand abroad.
"… My intention is to use the Senate as a platform to create a vibrant, buoyant economy in Owerri Zone to use massive training skilling up of the youth and empowerment to tackle the insecurity and your restiveness.
"… I will fight to see to the realization of a South East Economic Commission to galvanize development of the region via critical infrastructure development like railways among states in geo-political zone, among others…", he assured.
Earlier, Chukwueke and his team had met Mbaitoli APC leaders at the Umudagu Mbieri country home of Chief Marcel Nlemigbo, where he was received by Mbaitoli APC executives and leaders including the party's LGA chairman, Hon Chinonye Agugbuo, the Interim Management Committee chairman, Hon John Eke, among others.
Chief Nlemigbo in his reaction, noted that Chief Chukwueke has paid his dues in Owerri Zone, and Imo, adding that his well-articulated programme and message for the zone would be related to the people. He also praised Chukwueke's philosophy of politics without bitterness, and prayed God to guide him.