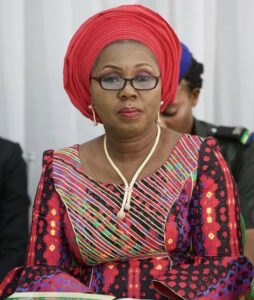 …Says: She is fit for the position
By Williams Odunze
The Emeabiam, Owerri-West-born First Lady of Ondo State, Mrs.Betty Anyanwu-Akeredolu has officially declared her interest to represent Owerri Zone at the Red Chambers in the National Assembly under the platform of All Progressives Congress,APC.She maintained that she is fit  and capable for the position.
Accompanied by different groups from Owerri Senatorial Zone to the APC State Secretariat in Owerri  where She addressed the State Party Executives under the Chairmanship of Hon.MacDonald Ebere, the First Lady of Ondo State maintained that she has the burning desire to lift Owerri Zone from dire needs of political and infrastructural development.
She stated that the plights of Owerri Zone has been her major concern, maintaining that she has demonstrated that in a little way she can  make sure that developments come to the Zone and that she will do more if given the opportunity.
Mrs Anyanwu-Akeredolu disclosed that because of her closeness to her people moved the 43 Traditional Rulers in Owerri Zone to gave her the title"Ada Owere"
The Ondo First Lady further hinted that her desire to go to the Senate under Owerri Zone, is very significant. That as a Woman, it shows that the Women folk are  capable to lead. That being married outside your State will not change your identity or remove you from your people.
"I was the first female graduate in my clan, trained by my parent and I must  demonstrate that female education is not a waste. When you marry you must not forget your root.Support me I will represent you well.Lets make Owerri Zone better." She intoned.
Reacting, the State Chairman of the party,Hon MacDonald Ebere, noted that Betty Anyanwu-Akeredolu was very articulate in her speech and has spoken well and will enjoy the support of the party if she wins in the primary election.
He advised her supporters to talk to the delegates that will vote during the primaries to vote for her that it is the only way they  will help her.
The State APC Chairman stated further that the party will ensure that the primaries will be transparent and that if she emerges the winner the party will support her.
The Ondo First Lady was accompanied by Chief  and Mrs Olushola Oke (SAN),The Director General of her Campaign team, Evang.Iyke Onuoha, the Senior Special Adviser to the Ondo State Governor Hon.Rowland Onyeukwu and Women groups from the Nine Local Government Area in Owerri Senatorial Zone.