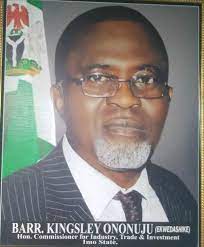 A prominent leader in the All Progressives Congress, APC,  Imo state, Owerri Zone and Mbaitoli Local Government Area, Barr Kingsley Ononuju (Ekwedashike) has cautioned that any attempt or plot to deny Mbieri bloc (Mbaitoli East) the chance of producing the Imo House of Assembly in 2023, would spark grassroots discontent which he said, could spell doom for the party in Mbaitoli local government and  affect the micro-zonig arrangement in the area.
Barr Ononuju spoke out recently against the backdrop of moves by desperate  politicians who  are name droppers that Onwa, the Governor asked them to run. That's clear deceit , Governor will do no such thing because that will thwart the micro-zoning arrangement in Mbaitoli ahead 2023 elections.  Mbaitoli state  Assembly ticket with Mbieri bloc will spell doom for the party.
"I am a follow-come member of the Governors team, a core loyalist and an ally of the Governor for over 30 years and i can  bet that the Governor will not ask anybody who has not prepared himself to go run for office, never"
"onwa is the Leader and the father of APC in Imo he will not allow curiosity seekers to jeopardize or rubbish all our efforts to make our party solid and viable in mbaitoli.
The   commissioner who was the Director of electoral matters for Governor Hope Uzodimma campaign organization in 2019
Barr Ononuju maintained that Mbieri bloc or Mbaitoli East holds a strong,stake in our voting strength on any Mbaitoli project, adding that it would be a miscalculated political arithmetic and suicide for such an area to be ignored or neglected in zoning of elective positions in Mbaitoli LGA that has the highest number of voters in the state.
Continuing, the former commissioner for Commerce and industry hinted that it was wrong and a miscalculation  for any anybody from Mbaitoli North or south that are currently occupying the House of Representatives position and the chairmanship of Mbaitoli APC and IMC chairman of the zLGA aside other juicy appointments to start aspiring for House of Assembly seat already micro-zoned to Mbieri bloc noting that such would not augur well for the party that is desirous of winning the big Swing Local Government of Mbaitoli.
Close watchers of the goings-on in the area agree with him that given the voting strength of Mbaitoli in Imo State and the fact that the opposition PDP has substantial foothold in the LGA,  it becomes imperative that APC must be very cautious in the manner elective offices are shared or micro-zoned  ahead of the coming general elections.